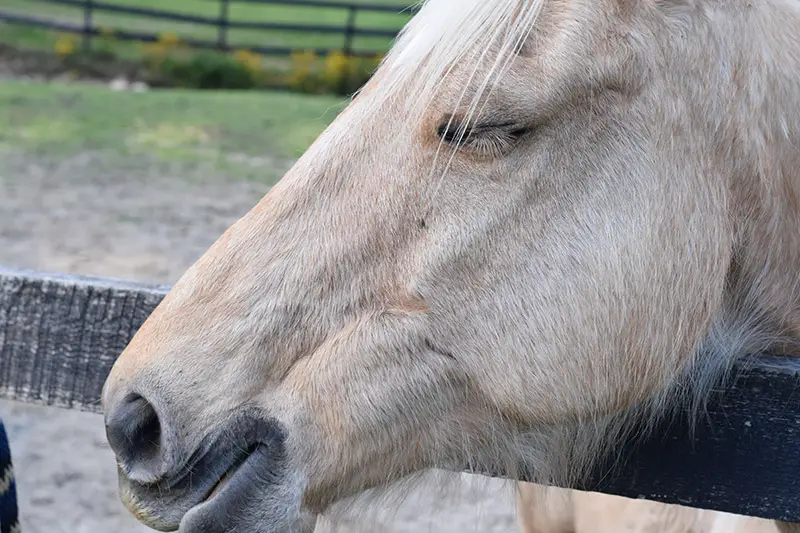 It may be strange to think that a horse person such as me would ever try to steer someone away from buying a horse. After all we've had a handful of our own ponies over the past several years, and still have one of them.
Horses are a lot of fun, each with a personality all his own. That said, I do think that there are a lot of reasons not to buy a horse. My goal with this article is to highlight some of those reasons right now.
Horse ownership is not for everyone.
And, to be honest, that's okay. You can be into horses and not own one. There are other options, one which I'll touch on at the end of this article.
This article will tackle some of the reasons why you shouldn't by a horse, and discuss them more in depth.
Reasons not to buy a horse:
Horses are expensive
Horses are a lot of work
Falling off hurts
Horses poop a lot
Allergies
Now let's take a look at each one a bit more in depth.
Horses are expensive —
While we've got a more in depth article on how much it costs to keep a horse, I can highlight some of the costs here. First is the cost to acquire the horse. A lower end cost for a horse would be at least several hundred bucks for an aging horse without a ton of miles left.
Sometimes you can find them for free, but they're not going to be able to do much besides be a companion or ride on trails. If that's what you're after, I'm all for it because they deserve a good barn, too.
More often than not, for a good jumper or barrel horse you'll spend thousands of dollars just to get the horse to you.
You should also buy the PPE (pre purchase exam) to make sure the horse is sound which will usually range in price from 500-1000 dollars. (not getting a PPE is one of the biggest mistakes people make when buying a horse.)
Then, of course, it has to eat, have regular vet check ups, see the farrier to make sure his feet are doing well, buy tack and equipment, and the list goes on.
Again, I say to you, horses are expensive.
Horses are a lot of work —
Horses are a lot of work, even if you're not taking care of the animal yourself. If you do a full board at a local barn you may not have to do any of the daily work yourself.
Then again, there is still work that you have to do as the owner. For example, you'll have to go get the horse from pasture if you want to ride him. Depending on how big the pasture is, as well as how hard it is to catch him, you may be in for some walking until you train him to come to you.
You'll also have to pick out his feet and clean the mud out of his coat. When you're done with that you'll have to pull the seed burs out of his mane and tail.
One time we were horsesitting for some friends and the mare had tons of these little prickly seeds stuck to her mane and tail and I spent about an hour just getting her untangled.
In other words, even if you have full board with someone else mucking the stalls and feeding him, horses are a lot of work.
Falling off a horse hurts —
I have to assume that if you're planning to get a horse it's because you want to go horse riding. Hear me: You will fall off at some point. And, depending on how big your horse is, you may be falling 4 or 5 feet to the hard ground below.
Believe it or not, there are right and wrong ways to fall off a horse, which goes way outside the scope of this article. I encourage you to find a good instructor to teach you how to fall off properly to minimize the amount of damage you inflict on your body.
But, even if you fall the right way, you're going to be sore the next day. Why? Because the ground is hard and horses are high off the ground. And if you're jumping and fall, forget it.
Horses poop a lot —
When when I say that they poop a lot, what I'm really saying, is that they're smelly. Horse feces don't smell quite as bad as a carnivore's does, because the main diet is grass and other grains.
But, they're stinky nonetheless. And if you have to be the one mucking the stalls and you start to sweat, stuff starts sticking to you. Even if you don't muck the stall, you'll still shovel poop from time to time.
Every horse barn we've ever been too required you clean up after your horse. Each time they drop their deuce in the barn we scoop it up.
To make matters even more interesting, our horse makes it a point to drop his each and every time he gets into our trailer. It doesn't matter if he just went two minutes ago. He musters up the energy to leave us a nice, steaming-hot pile of digested grass right there in the trailer.
Our big boy is very generous, and clearly doesn't want us to be bored.
This isn't that big of a deal if you don't mind the smell of a barn or feces, but if you do mind the smell, then horse ownership may not be a good option for you.
Allergies —
This is a big one for me because I have hay fever pretty bad. I almost think our horse knows it because he's constantly blowing in my face while eating hay.
We once brought one of our daughter's friends to a horse show and she started to get hives all over her face, arms, and legs because of how very allergic she was to the hay. Because of this she'll never ride a horse, herself.
Of course, there are ways around this, and I find that whenever I know I'll be at the barn for any period of time I take an allergy pill. If I forget, my eyes turn into faucets, and I cannot control my sneezing.
If it was just me, and my daughter wasn't so far down the horse rabbit hole, I wouldn't have any for this reason alone. The other stuff on this list doesn't bother me much, but I'm not a huge fan of sneeze fits and leaky eyeballs.
Don't buy a horse, lease one to start —
Above I promised you an alternative. While leasing a horse won't help your allergies out at all, nor the costs, leasing a horse is a good idea for many different folks who are unsure if horse ownership is for them.
And, it will allow you the time to decide if horse ownership is right for you as you figure things out. Leasing a horse is the next logical step after you've been riding and taking lessons for a while because the horse still technically belongs to someone else, but you lease out the rights to the horse for a given amount of time.
We've touched on this topic a lot more in our buying a horse vs leasing one, so I won't beat it up too much here.
Next, read up on our tips for new horse owners.