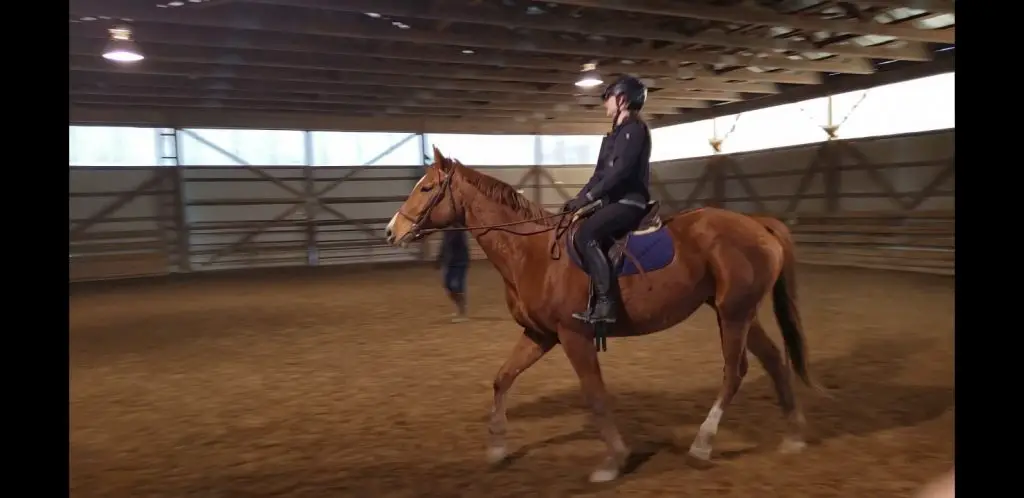 There is a clear cut process put forth that many folks follow when starting out into the wonderful world of horse ownership. This article assumes that you have at least started taking the first steps toward that goal.
The first steps, are as follows:
Take riding lessons from a good instructor for a while to make sure riding horses is actually something you want to do. Learn as much as you can during this time because while it gets easier overall, some aspects get harder.
Learn how to take care of a horse, because even if you board your horse off property, there may come a time when you have to do it yourself. You have to know what is involved with it to see if you actually want to do it. It's not easy.
The next logical step before actually buying a horse, and to continue on with the above two steps without making a massive commitment to buy, is to lease a horse.
What does it mean to lease a horse?
Think about leasing a horse, kind of like leasing a car, an apartment, or office space. Someone else still owns the horse, but you buy the rights to ride it. You also help take care of it.
The only difference, is that a horse lease tends to be slightly more flexible.
When I say flexible, I mean that an apartment lease tends to be for one year, a car lease for several years, etc. A horse lease can be month to month, somewhat longer, or just a week in length depending on your needs.
There are different kinds of leases, and you should consider each based on your needs, as well as what the owner needs. There is a chance that you won't be able to come to an agreement, and that's okay. Keep looking because there are a lot of horses out there.
Half or partial lease:
A half or partial lease gives you rights to the horse during predetermined days of the week or at certain times. This means that you only have the right to ride the horse during those times, and not outside of those times.
We recently leased out our old mare for a half lease. The way it worked was the other family got rights to ride the horse for half of the week. One week it was three days, the next it was four days. That way it worked out to about half of the year.
On the off days, we let the horse rest because she is older and didn't want her to get hurt.
This type of lease worked well for us because it helped take some of the financial strain off of us for the boarding, and it was great for them because they got a taste of horse ownership.
We no longer lease her out because she got too sore for jumping, and to my knowledge that family has still not bought a horse because they learned that they were not committed enough — and that's okay.
Full lease:
A full lease means that the lessee gets to access and ride the horse whenever they want. We have several friends who did full leases on their horses and it seemed to work well for them.
That is, until the owner decided that it was time for a change. I cover this in a later section.
Medical costs:
Something that is usually forgotten about is that horses are animals who are prone to accidents. Sometimes they kick or bite each other, other times they may scratch themselves on a nail. Either way, all horses get hurt from time to time.
Those are also just the injuries. There are also the regular expenses like farrier and vet visits. Horses need regular maintenance and you can at least expect to split the medical costs in half with the owner.
If you're doing a full lease, you can usually expect to pay the full amount of the medical costs because the owner is not actively riding the horse. Though, I have heard of some people negotiating this aspect, and there are a couple of different ways I've heard it done.
Some have said that they still only pay half of the medical costs, while others will have the owner paying for certain aspects, only, like farrier or regular exams and coggins.
Grooming, care, and riding:
When you lease a horse, it means that you don't just get the horse to ride. You get all aspects of the horse on the days of your lease. This means that you need to take care of the animal like it is yours on the days you have it.
They need to be groomed and cared for, not just ridden. In fact, your leased horse should be groomed several times per week, if not every day.
This includes picking out the hooves, regular grooming, actual bathing (which is different than regular grooming and is NOT something that is done regularly), blanketing in the winter, putting on bell boots if needed, and whatever else I'm forgetting about.
Horse lease agreement:
A horse lease agreement will usually include some sort of contract that you have to sign and agree to not violate. The agreement will include the usual stuff, like what is expected of the lessee and the lessor, as well as the terms of the agreement.
Each lease agreement may also say different things. For example, we put it in ours that the lessee would under no circumstances remove our mare from the property without our strict consent.
Other leases don't say anything about this, at least not that we've found.
Whatever your lease says it's imperative that you follow it to the letter. If you're doing something outside of the lease agreement and the horse gets hurt, you could find yourself in some trouble.
Many times the things found in the agreement can be negotiated, so don't be afraid to try putting something in there that you want.
You don't own a leased horse:
It's extremely important to remember that as the lessee, you don't actually own the horse. It's not an easy thing to do, especially for children, but try to not get too attached to a horse during your lease period because you never know what's going to happen.
Two of my daughter's friends ended up in tears after one owner sold the horse, and the other one decided she didn't want to lease the horse out anymore.
The best case scenario is to not get too attached. At some point, the horse won't be yours unless you do a lease to buy option, which is a rare thing.
Horse Tack:
Chances are good that you'll be responsible to supply your own equipment, known as tack. This includes things like the saddle, halter and lead lines, bit and reins, grooming kit, and all the other stuff needed to take care of these animals.
This stuff adds up quickly. A good saddle can cost anywhere from a couple hundred dollars to several thousands of dollars.
When leasing doesn't make sense:
Leasing a horse as the next step doesn't always make logical sense. The reason being, if you have to pay for the horse lease and board is a similar cost, buying a good starter horse may be a better idea.
A good starter horse is one who is experienced with riders (usually 10-15 years old). These horses tend to cost less than a younger horse does, but because he's older without a ton of jumping miles left in him, he may be cheaper.
And a more experienced horse does wonders to a child's confidence level while riding.
It also may not make sense to lease if you've already established the fact that you want horses and have proven yourself reliable to the animal himself.
Buying a Horse:
Up until this point, we've been advocates of leasing a horse to make sure this is a good thing for you. But, the story wouldn't be complete if I didn't at least touch on the benefits of owning your own horse.
When you buy a horse, you can ride him whenever you want, but you're also fully responsible for the care of the horse. There is no other owner to fall back on. Owning a horse is expensive.
It's a huge commitment. But it is a commitment that is totally worth it because you'll grow a bond with regular visits. After time, your horse will become your best friend who trusts you with his very life, as much as you trust him with yours.
It's a bond unlike any other and shouldn't be taken lightly.
Conclusion:
Leasing a horse is a great next step to find out if horse ownership is right for you, because you may not be cut out for it — and that's OK. It's better to find out before making the commitment to buy and potentially ruin your life, as well as the horse's life, just to find out you can't actually do it.