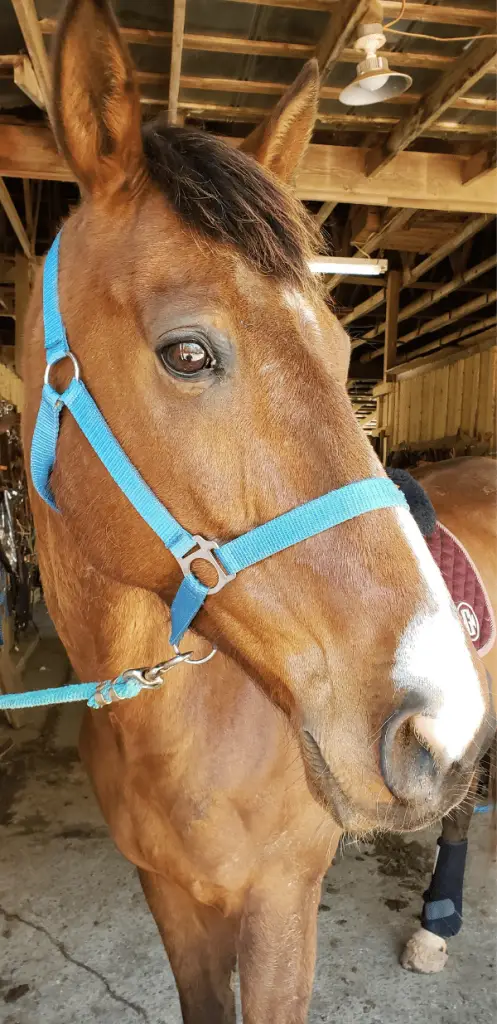 Buying a horse is a daunting task, and if you're not careful you could end up making a big mistake that could cost you a lot of money, not to mention the stress it could cause the animal.
The below guide will help you learn from mistakes we've made, as well as some our friends have made, to help prevent you from doing the same.
We have purchased three different horses now, and have helped council our close friends on how to do it as well. We've driven longer distance to trial horses, have made a plethora of mistakes when making the purchase, and have even had to return a horse once.
My goal with this article is to help you not make the same mistakes we did when we bought, and to help get you on the path to horse parenthood.
Let's get started.
Mistakes people make when buying a horse:
One of the biggest mistakes I've seen is not getting a pre-purchase exam (PPE) done on the horse before making the decision to buy, or not getting a thorough one done. Another mistake we've seen is buying the wrong type of horse (gaited, when your goal is to jump), or buying a green horse that requires a lot of training.
Let's tackle each of those, as well as a few other mistakes we've seen, more in detail. Most of these are geared toward the potential new horse owner. More experienced owners should know most of these tips, but it might be a good refresher.
Horse Pre-Purchase Exam:
You're going to be tempted to not get the PPE done, but that is a huge mistake. I know it's expensive, but horses are animals that are prone to hurting themselves, and you don't know that horse's specific history.
The PPE is done to protect you, the buyer, to make sure that you're getting yourself an animal that is healthy and able to work for you.
This PPE is supposed to help point out all of the issues that a horse has to help you make a buying decision. The findings can also be used as a haggling tool, but we'll cover this more in depth in a few.
Blood drawn —
A good PPE will include numerous things in the exam, most of which are obvious. Something that is a little less obvious is a blood/drug test. There are certain drugs that can help a horse look like it's healthy, when it is not.
There are also drugs that can make a horse seem calm when it is not.
The bottom line here, is that a good PPE will have blood drawn to test for things of this nature that can cause the animal to seem healthy, when it isn't.
Don't skip the legs —
Okay, so you get the PPE done, but you decide you don't want to get the legs done because the rest of the horse is healthy. That's a bad idea if you plan to use the horse for any kind of serious riding. For example, if you plan to jump the horse, you need to know if his legs are sound.
The legs are one of the most fragile parts of a horse and if they get damaged in the wrong spot it could actually be dangerous for the horse and rider if they're doing anything serious, like jumping.
Yes it's expensive. But if you look at it like it's an investment it might change your mind.
Skipping the leg exam makes sense if you're only looking for a pasture pal or a trail horse.
Don't use a vet the seller recommends —
It's not a good idea to use the veterinarian that the horse seller recommends. After all, they're selling you the horse, and they're friends. We used a vet a seller recommended once and ended up returning the horse once our vet came and looked at him when we got him home.
He had a broken bone that wasn't noticed by the seller's vet, but we started noticing a limp. We called our vet who came out and did some x-rays. She noticed the broken bone and we sadly had to send him back.
That was a whirlwind of a weekend because it was a 6 hour drive and I had to drive him myself.
The Wrong Horse:
Please know that when I say "the wrong horse" I don't mean that there is such a thing as the "wrong horse." Instead, what I mean, is that it is the wrong horse for what you're trying to do and for your discipline.
There is a common theme among Americans to include us and our friends. And that is the theme of instant gratification. When you want a horse, you want one now and you don't care about anything else.
Trust me, I get it. But, thinking like that is a problem.
When you want a horse so bad that you can taste the hay, you may be willing to settle for the wrong horse. This is a mistake and the right one will come about at some time. Some good friends of ours made this mistake when they purchased a gaited Tennessee Walker (who was nuts, by the way) because they wanted a horse so bad they could taste it.
The problem, is that their daughter had every intention of doing hunter/jump shows and gaited horses tend to struggle with the bigger jumps that the kid wanted to do.
They ended up eventually giving her back to the people they got her from.
If they had just waited for the right horse to eventually come along, they would have saved themselves a lot of heartache with having to give the horse back after the child got attached to her.
Western vs English Horses:
Any horse can learn a new discipline. Well, in our experience that is true, anyway.
That being said, there are slight differences between Western and English riding that are important to consider if you have already learned a style, and your prospective horse has not.
These can be worked through, and either one of you can learn what the other is doing. But it is easier to look at a horse who is already familiar with what you're trying to do.
A Green Horse:
A green horse is one with little experience. Not all green horses should be put into the do not buy category, however. A green horse with a good head on his shoulders who is willing to learn is much better than a headstrong horse who also just happens to be green.
The tougher horses usually tend to be younger in age, which is why the US Pony Club tends to require a horse be at least five years in age before it starts being used for events until the rider moves up.
There are actual reasons for this, and a younger horse is likely just not ready. Then again, one could be fine, and each horse should be looked at individually.
Just know that a younger horse will, on average, be more difficult to train than an older horse is.
Not Haggling on Price:
Above we spoke about the PPE. While the main goal of the PPE is to find out if the animal is healthy, a side-benefit of getting one done is that you can negotiate with the findings.
Truth be told, there is no such thing as a perfectly healthy horse. Every horse we've ever looked at purchasing, or any of our friends — they've all had something listed on the exam.
And that is totally normal.
For example, our Thoroughbred Gelding (pictured above) has a heart murmur that, while deemed safe by the vet, was used to get a few hundred bucks off the final price.
If it's not a deal breaking medical issue, like a bad heart murmur (not what our horse has), a broken leg, or something like that, haggling on price is acceptable.
Buying a Horse Unseen:
I have mixed feelings about this one, because I have friends who have done this successfully, and others who haven't.
That said, the friends who have had success have been buying and selling horses for three decades, and have a lot of experience. I think for your first or second horse, you should see the animal in person to make sure everything looks right.
Conclusion:
Buying a horse is one of the most rewarding experiences you can have. You'll create a bond between you that is nearly unbreakable, and as you build trust he'll shock you with how much work he's willing to do.
It's my hope that you won't make any of the above horse buying mistakes, and that you've been able to learn something from our experience.
Next, figure out if buying a horse or leasing one is the best option for you.