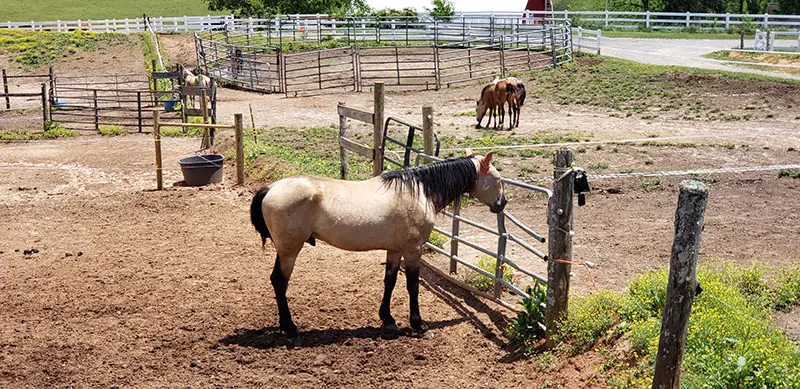 Buying a new horse is exciting, but knowing what to do after the purchase can be a little intimidating. First things first, you must make sure the animal is in a spot that limits his chances of getting hurt. He should have a pasture for grazing purposes and some room to run the sillies out of himself.
That pasture should have some sort of fence installed so he doesn't get out and hurt himself. You should also make sure there is plenty of water available for when he gets thirsty.
Beyond that, there are some things that you should do to make sure the animal is well taken care of as he's adjusting to the new place. After all, you want him to be healthy and happy.
There are also some things that you should do for yourself, as well, to make sure you're ready to ride him.
What do you do after buying a horse?
Isolate from other horses, at first
Ride with an instructor present
Wear an event vest and helmet
Get necessary tack and equipment
Horse transport considerations
Horse insurance
Let's tackle each of those, and a few other points, more in detail below.
Isolate from other horses, at first:
Horses are herd animals who tend to do better when there are other, similar animals present. But, there are a few good reasons why we isolate them, at least for a little while, in a nearby, visible pasture.
We've boarded at a few different barns, and each time we did, the barn owners made sure to isolate our horse from the rest of the horses for a few weeks. There are a few keys to remember here. First, your new horse should be able to hear and see the other horses so he knows he's not alone.
He needs to be a part of the herd, even if he can't associate with them directly yet.
This helps the animal to become acclimated to the new surroundings and with his new herd, while preventing issues.
This isolation allows the barn manager to monitor food, hay, and water consumption to make sure enough intake is being done, as well as making sure there aren't any transmissible illnesses he can pass along to the other horses.
The main reason, though, is the intake of calories. In each herd of animals from a flock of chickens, to cows and horses, there is almost always a hierarchy among the animals. Sometimes the herd won't allow the new horse to eat or drink, which is obviously troublesome.
I will say, however, that it does work itself out over time, but acclimating the horses to each other seems to help the process out, at least in the bigger herds.
Also, not all barns do this, and that's okay because there may not be a need. They know their horses best.
Then one or two horses from the herd:
After a week or so, or once the herd seems to forget about the new guy, put him in a pasture with one or two of the least aggressive horses from the existing herd, before introducing him to the others.
Horses tend to form a tight bond with each other, and this is necessary for successful introduction. If he's already friends with horses from the herd it helps facilitate them all getting along.
What if you don't have other horses?
Ideally, you won't keep your horse totally alone. No offense, because I'm sure you'll take excellent care of your new pony, but you're not enough.
Horses can technically be in a herd with cows, goats, or other farm animals — but they tend to do best with other horses.
However, if all you have are cattle animals that will suffice, unless they don't get along or are spooked by those animals.
Our gelding is terrified of donkeys for some reason. I don't personally get it because they're in the equine family, but he spooks whenever they make the hee-haw sound.
Your first several rides:
This is a very delicate period of time for you and your new pony. One of your main goals is to establish a bond, so you'll need to proceed with caution.
One of the ways you begin to develop this bond is by riding him. You can't just jump on and ride him, though, if you have no idea what you're doing.
If you're inexperienced and jump on him it could hurt things more than help.
Riding instructor:
I think it's a good idea to ride, at least your first time or two on the new horse, with a good riding instructor present, depending on how long you've been riding.
Remember, one of your goals here is to bond with your horse. Having a knowledgeable riding instructor present will do wonders to facilitate that as she reminds you how to do the right things during all the steps of riding.
The reason why this is important, is because it can be stressful for the horse depending on how well you ride. If your horse has been around for a while and knows at least the basics, but you don't, your horse may not know how to react.
If you then start to whack him with a crop or kick him with spurs when it's not necessary (because it's your fault) it could exasperate the problem.
The easy fix for this is to just ride with a good riding instructor present. Notice how I prefaced it with the word "good." The truth of the matter is that most riding instructors are NOT good, because anyone who has been riding for a while thinks they can become an instructor.
Learn more about how to find a good riding instructor in this article.
Regular exercise:
Horses need a regular amount of exercise or they get out of shape quickly. And, while you may think that your horse romping around with his friends in pasture is exercise, and it is to some degree, that's not what I'm talking about.
What I mean is that your horse needs to be under saddle on a regular basis if you plan to ride him at all. You should practice correct riding while you're actually on him, to keep him mentally and physically strong.
This will keep him in shape and healthy for your enjoyment for many years.
Don't ride your new horse for a day or two:
Starting off right and keeping it up is key, but try to remember that going to a new place to live can be stressful for anyone, including your horse.
Think about it, he's been taken away from his life. He did have friends where he came from, and he won't necessarily understand what's going on.
He will settle in after some time, but it may take a couple of days before you can ride him.
Of course, this depends heavily on his temperament, how far he traveled to get to you, and when he gets there. I would at least wait until the following day to ride him, however.
Eventing vest:
You don't know the ins and outs of the horse yet, how he reacts to certain things, what he spooks at, etc. So, I highly recommend that you utilize a training vest like the ones used for eventing (like this one on Amazon) for your first several rides.
In my opinion you cannot be too safe.
A vest like that is meant to take the brunt of damage to the area the vest protects in case of a fall. Wearing one is an excellent idea, and my daughter wears hers whenever she rides an unfamiliar horse.
It should hopefully go without saying, but this is in addition to a good riding helmet (like this one also found on Amazon).
Horse tack:
You'll need to buy at least some new tack depending on what you've already got, your current needs, etc.
For example, at one point we owned two horses. We retired our old mare who is now being taken care of by some very good friends of ours where she still gets low-level exercise, plenty of hay, and lots of love.
The thoroughbred horse we got for competition purposes is a lot bigger than she is. He's 17 hands and about 1,250 pounds, and she is 15.1 hands, 950 pounds wet. Thankfully, we had a saddle with an adjustable gullet, and all we had to do was open it up a bit.
Thankfully we were able to use the saddle we already had, but we needed a new bit, reins, halter, saddle pad, and all the other things.
You have to figure out what you need, and I always recommend having extra tack and equipment in case something breaks. But I can almost guarantee that you'll need at least a few things because no two horses are the exact same size, and even if they are, your new horse may not look good in pink.
Horse transportation:
One of those things that many people don't think about until it's too late, is how they'll get their new horse to the place where they'll put him.
If you have your own trailer and it's a horse that's relatively close, say under a couple of hours away, that's not a big deal. But if your new pasture pal is in another state, is several hours away, or if you don't want to be the one responsible for trailering a new horse, you'll need to find a company who specializes in horse transportation.
There are a few options for this. The first thing I'd do, is contact a local barn to see if they'll do it for you, obviously for a fee. If they don't offer that kind of service, ask them if they know who does.
You could also ask the seller if they would bring you the horse for a fee, or ask if they know anyone who will.
How does the horse trailer?
Kind of off topic, is a question that you should ask the seller before you buy. And that is, how does the horse load and unload, as well as his behavior while in a trailer.
This is important, because the transport company will ask you how the horse does in a trailer, and you need to be able to tell them something.
I do want to point out that you should take whatever the seller says with a grain of salt, because they may lie to you just to sell the animal. But you still have to ask.
Horse Insurance:
Something else that you should give serious considerations to depending on your horse, is getting horse insurance.
Not all horses are insurable, or even should be insured. However, if you have an animal that you paid a lot of money for and is a high-level competition horse, you might want to consider getting horse insurance.
We've insured both of our horses until the company would no longer insure our mare due to her age, and cancelled it.
Conclusion:
Buying a new horse is a fun and exciting thing. That said, it can be intimidating when you don't know what the next or first steps should be. This article hopefully got you started on the right direction.
Next, read up on reasons not to buy a horse, and what to do instead.