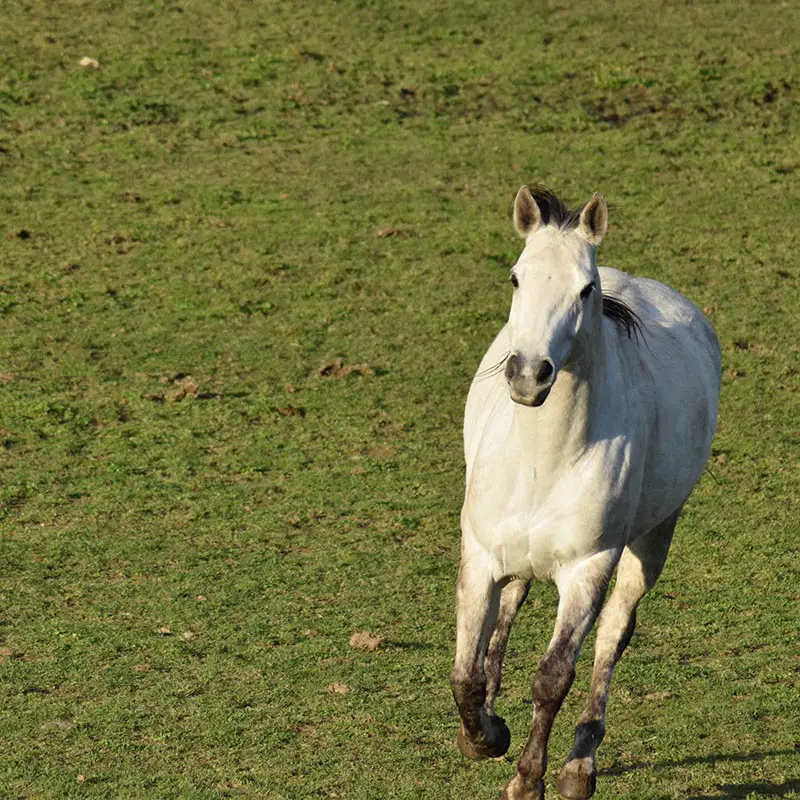 The thought of buying a piece of land for us to pasture and stable our horses, instead of paying someone else full board, has been a serious thought of ours over the last six or so months. I come from the frame of mind that would rather pay down my own land, than someone else's.
This is no small undertaking, but I think it'd be well worth the cost of building our own pasture and stable for the future instead of paying so much money per month to have someone else paying off their land. But, I had no idea where to start with this, nor how much land would even be needed. So we have been researching this A LOT out of anticipation of our own land purchase for our horses.
How much land do you need to have a horse?
As a general rule of thumb, 1-1/2 to 2 acres is a good amount of land for a horse. Two acres, if managed properly, can also give adequate pasture and hay ground. There really is no such thing as too much land for a horse but making sure you have enough seems to be the real question.
What if you have many horses?
When you have more than one horse it can be hard to figure out the right amount of land needed for your herd, and this is when you can really start to face some problems like overgrazing.
A good rule of thumb is two acres for the first horse and at least one additional acre for each additional horse. So if you had a herd of 8 horses you should have at least 9 acres of land.
This way, you have space to move them around and not overgraze your pasture. It's important to have enough space to rotate which pasture is being used.
How do you break up the pasture?
It's important to remember that horses are supposed to eat grass in small quantities, throughout the day. Making sure they have the needed land for a proper pasture to keep them healthy is very important.
No more than 30% should be bare ground. The forage area should be 8-10 inches tall and not eaten to the ground as well as not full of weeds. 70% should be great foraging ground for them to get a lot of their nutrients. You can also place hay at different parts of the pasture to encourage grazing.
Do horses need room to run?
Horses do not need a lot of room to run but they need to move around freely for part of the day. Horses on large farms do just as good as those in small pastures. As long as the horse has enough time to graze and access to enough grass or hay so they can thrive.
Biggest issues when planning land for a horse
There are three important things to think about when planning a small horse farm. Overgrazing, manure management, and water run off.
To avoid over grazing it is important to have healthy green pastures for the summer months. Fields filled with weeds don't hold water very well and water runoff will contaminate ground water and surfaces.
Horses need to graze while they are turned out for the day and need plenty of nutritious grass growing.
In terms of manure management most states have regulations about how far a manure pile can be from well or property lines.
It is important to have a plan as to whether or not you will be composting your manure or having a hauling company haul some off. It's important for you to do your research before deciding your plan of action.
Water run off will cause major problems with mud. Mud is not just from the rain but it also involves the management of water. It is a good idea to have gutters and/or french drains to help redirect the water and prevent it from pooling into certain areas causing breeding grounds for bugs and bacteria.
Conclusion
So, as you can see it's less about the size of the pasture, and more about the pasture management. You can actually do quite a bit with a smaller piece of land, which helps in terms of affordability.
That's great news for us because we're in the market for a parcel of land. We can see that the benefits of land ownership for a small horse farm far outweighs the negatives.
It's not easy, and there is a lot of work to be done, but now that we know how much land is needed per horse, we can plan accordingly and make sure we have enough land to grow into.
Do you have a horse farm? If so, how much land do you have?