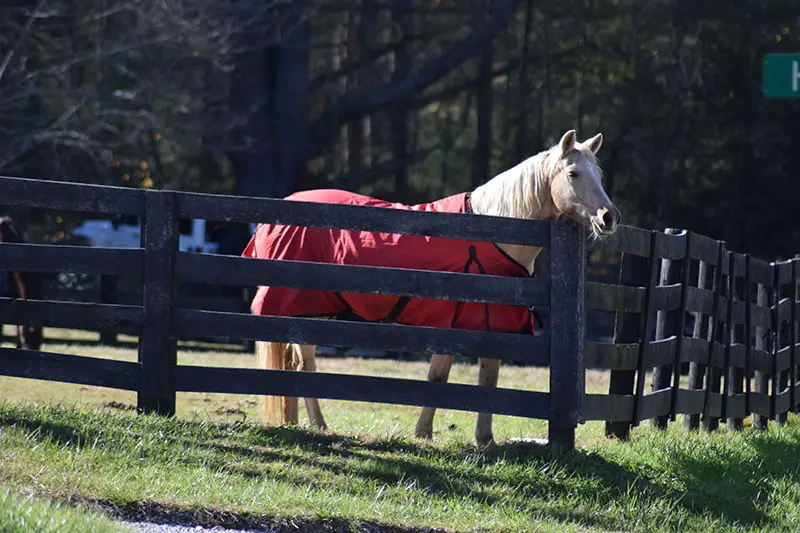 Any horse at any age can make a great companion. For example, a senior horse in his twenties should not be discounted or taken for granted because he's likely great for younger riders and as a pasture pal.
Furthermore, some of these older horses can still be ridden in competitions if they're in good shape, and can even jump on occasion like the above-pictured palomino who jumped her first course at the ripe old age of 20.
It's rarely a good idea to discard a horse based on age, alone. There are several other factors that should play a role in deciding if a horse is right for you. We can touch on those later on.
That being said, there is a sweet spot for most horses, which would be considered the prime age for a vast majority of all horses. For younger, newer riders, an older, more experienced horse in his teens is a good age.
If you're a more experienced rider, you may require a younger, more forward horse. These come in different experience levels themselves.
Let's take a more in-depth look.
What is the best age to buy a horse?
The best age to buy a horse is between 5 and 15 years old. At 5 years old you'll get a really athletic, but green, horse that you can teach and train. At older ages, you'll get a more experienced horse that is still athletic and willing to work.
Truth be told, a five-year-old horse is usually really green, or inexperienced. This can be a great thing if you want a blank canvas and are a professional horse trainer. But, I have to assume that you're reading this blog for advice, and are not a pro horse trainer.
For most people, a horse between 10 and 15 years old is the best age because the animal already knows much of what you want to do in your riding. Let's tackle this more in-depth.
To get an understanding of when the best age to buy a horse actually is, you first need to figure out what you plan to do with the horse because different ages work better for different disciplines.
Horse racing, for example, usually utilizes horses that are under 4 years of age. After that, the horse is considered many times to be out of their prime — at least in the bigger races.
Most other disciplines understand that a horse's body is still developing at that point, and will wait until a horse is five years old, at a minimum.
Green VS Experience, Which Is Better?
If you're a more experienced rider, either is good. If you're newer at riding, or only have a couple of years of experience yourself, getting a horse who knows what to do is the best option.
These are usually between 10 and 15 years old, with a few outliers on each side.
When you get into the later teens and early twenties, a horse can still be in great shape and willing to work. However, a horse that is not ridden regularly at these advanced ages will usually deteriorate a bit faster so you have to make sure you're riding him on a regular basis.
An example of the wrong horse:
We recently met some folks who were brand new to the wonderful world of horses and were set on buying a horse who was under 10 years old.
The horse they ended up with was a green, seven-year-old gelding. While not the worst thing for someone who knows how to train young horses, they have never even sat on a horse before.
Making matters worse, he was head shy, with messed up teeth, and permanent saddle scars near his withers indicating a poorly fit saddle.
They went with a younger horse because their trainer told them to, thus backing up my thesis about most riding instructors not having the slightest idea about the right way to do things.
Any of the better instructors out there would tell a family new to horses to get one who has been educated to make it easier on the rider and to help build up that much-needed confidence.
An example of the right horse: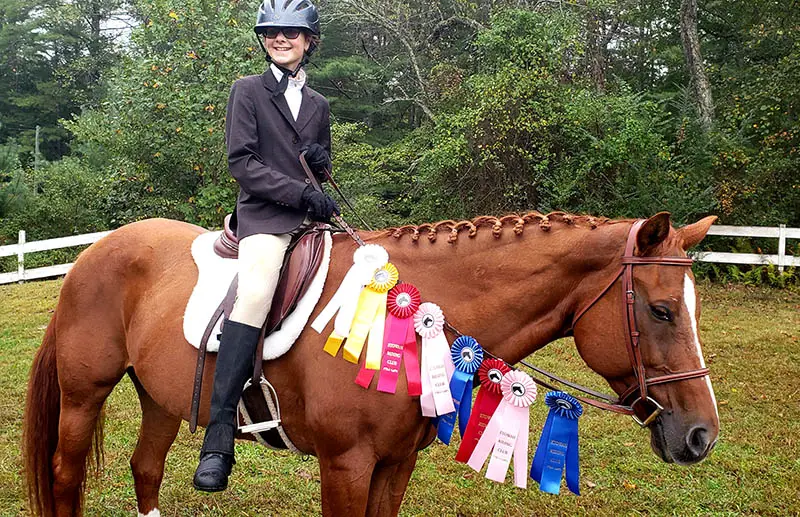 Our first horse was the above-pictured 14-year-old Quarterhorse mare. She was already trained in Western Pleasure, and it was an easy transition for her to English. She was experienced and willing to do the right thing by my daughter.
Making matters even better is the simple fact that she was also a camp horse and had little kids on her all the time. Her demeanor changed whenever we put a little kid or inexperienced rider on her, because she was able to sense a change.
She was a great first horse because she was a massive confidence booster for Hannah, pictured after a show winning lots of ribbons.
Conclusion:
Ideally, you'll want a horse that suits your needs. This can technically be a horse of any age, but the sweet spot for most people will be between 5-15 years old. We personally like horses that are about 10 but would always welcome a younger or older horse based on their education level and demeanor.
Read Next: Mistakes people make when buying a horse.