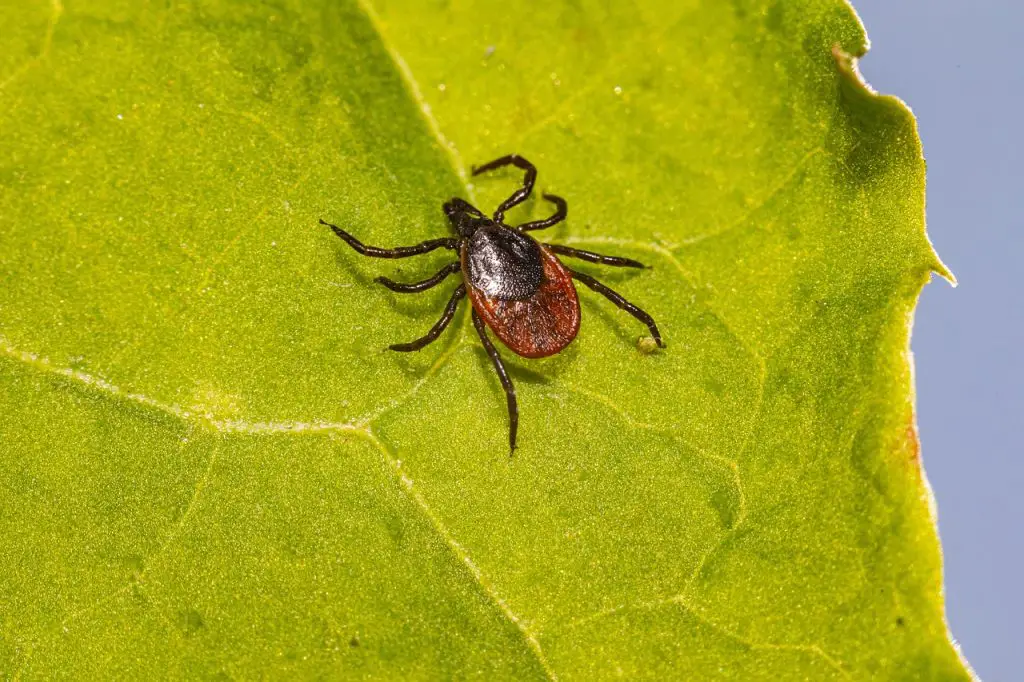 A while back, one of the horses at a local barn got very sick and at first nobody knew what to do, or why he was sick. One of the thoughts put forth by the barn manager was that he ended up with a tick-borne illness.
We ended up leaving that barn so we could take care of our horse by ourselves and never learned his fate.
After we found out, we began to treat our horse to make sure he wouldn't get bitten by a tick and suffer some sort of tick-borne illness.
At the time, I didn't even realize that ticks could pose an issue for such a massive animal like our horse. After all, our big guy is 1,200 lbs of lean, athletic muscle. If there is one thing I've learned over the five or so years we've been horse owners, it's that if they can get hurt, they will get hurt.
Are ticks dangerous to horses?
Turns out, yes. Ticks are in fact dangerous to horses. Ticks can carry diseases such as Lyme disease, anaplasmosis, and equine piroplasmosis. In addition, there can be a rare issue called tick paralysis and skin irritations.
The best thing to do is do your best to prevent ticks as much as possible. Prevention isn't easy, but it's much better that having a sick horse on your hands that you need to spend thousands of dollars to fix.
Trust me, I know.
How to prevent your horse from tick bites
If you don't want your horse to develop a tick-borne illness like one of the ones listed above, then you've got to do your best to make sure he doesn't get bitten by an infected tick.
Here are some of the ways we've been keeping our OTTB tick-free.
Topical Tick Prevention
The first step, and something we have been doing for a while, is using a topical liquid called Equispot. Each dose gives about two weeks of prevention, but it includes ingredients that will keep your horse free from ticks and even kill them and other parasitic insects.
There are probably other tick repellents that work, but we haven't tried them yet. Find one that works for you, or ask your vet what they recommend.
Regular Grooming and Inspection
Ideally, you're already grooming your horse at regular intervals at least several times each week. Hopefully you have a good idea of your horse's bumps and scratches. That way, if you see something new you can identify it.
I always take a picture of a new bump, ding, scratch, or bite so I can monitor it.
If you go on a trail ride, it may be a good idea to do an inspection both before and after. Tick and illness prevention is worth the extra time it'd take to make sure there aren't any parasitic insects on your horse.
If you see a tick pull it off. More on this later.
Pasture Maintenance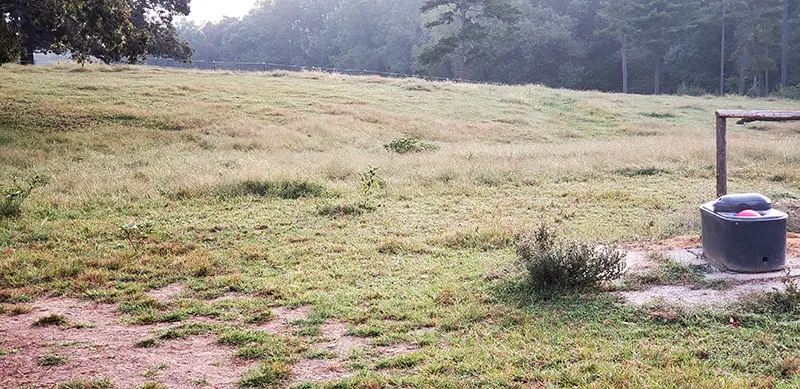 Sometimes extra pasture maintenance may be required. A lot of folks think that, because horses eat grass they don't need to mow. However, after seeing our horse pasture (above) and the grass that grows, horses don't actually eat the entire thing.
During the summer months when grass grows much faster and they have their pick, they get pickier.
In this pasture, even though there are several horses who eat its grass, you can several long patches all over the place (as well as some pokeweed right there in front). Regular mowing can help tame the pasture and keep ticks at bay.
Furthermore, if you have pasture that backs up to wooded areas, preventing the horses from going in it may be a good idea. This is a difficult decision to make because horses like shade, and in areas where the sun is hot and there isn't a run-in, the shade offered by trees helps make animals more comfortable.
In some areas it may not be as big of a deal, but in areas with known tick problems, like the northeast (NY, NJ, PA, etc) it may be necessary.
Remove Ticks ASAP
If you've done all of the above and still find ticks on your horse, then you must remove them right away.
Use a good pair of tweezers (I say good because cheap, flimsy ones may not grab the entire tick) and get down as low as you can on the tick. Pull it out, and then put it in a sandwich bag in case your horse starts to show symptoms of illness.
Try not to squeeze the tick when pulling, and try to keep the tick intact so it doesn't secrete any extra saliva into the bite.
What tick-borne illnesses do horses get?
There are a few different tick-borne illnesses that horses are prone to. Lyme Disease, Anaplasmosis, and Equine Piroplasmosis (usually simply called EP in the horse world). Let's take a more in-depth look at how each illness affects horses.
In any case, and if your horse begins to show any of these symptoms, contact your veterinarian ASAP.
Lyme Disease
Lyme Disease is the most well-known disease presented here, and many people don't know that a horse can get Lyme Disease. It is a tick-borne illness that can sometimes be hard to diagnose.
The symptoms of Lyme disease in horses may include:
Fatigue or lethargy
Muscle wasting
Fever
Difficulty swallowing
Facial nerve paralysis
Behavior changes
Swelling in the joins or unusual lameness
Eye inflammation
It's hard to diagnose Lyme Disease based on these symptoms alone and if you suspect that your horse is presenting any of these issues you should contact your veterinarian right away.
The key for treatment is to diagnose it early. Horses tend to respond well to the antibiotic treatment required to treat the illness if caught early. If it's left untreated it can leave a horse with a bad outlook on life with symptoms that may never go away.
Equine Anaplasmosis
Anaplasmosis is the second most well-known tick-borne illness for horses and is usually contracted by the same type of small ticks, known as deer tick, that transmits Lyme Disease.
Some of the symptoms associated with Anaplasmosis are as follows:
Jaundice (yellowing in the eyes)
Loss of appetite
Lethargy
Ataxia (loss of balance and coordination)
Muscle tenderness or swelling of the legs
High fever
Our horse was very sick about a year ago and presented with many of these symptoms. As you can imagine we were more than a little worried. He never tested positive for it, but he never tested positive for anything.
This was in the running for the tests the nice folks at the University of Tennessee were testing for.
To diagnose anaplasmosis, you'll have your vet run a blood test, along with checking out the horse clinically.
Treatment is usually the same as with Lyme Disease, and is a course of antibiotics. Horses usually respond well and show improvement within a couple of days. In some horses, depending on the severity of the illness, recovery is possible with time.
If you suspect your horse has equine anaplasmosis get your veterinarian involved ASAP.
Equine Piroplasmosis
Equine Piroplasmosis is the least known of the tick-borne illnesses horses can get. It is usually caused by a protozoan parasite that attacks red blood cells and is transmitted by a tick that has fed on another horse with the protozoa.
This disease can be deadly if left untreated.
Some of the symptoms of EP include:
Jaundice (yellowing of the eyes)
Lethargy
Loss of appetite
Fever
Leg swelling
Abdomen swelling
To diagnose Equine Piroplasmosis, your vet will run blood tests to get a definite answer. Relying on symptoms alone could leave the vet to diagnose the wrong illness, and because antibiotics won't treat a protozoan illness, it's important to get the right one.
To treat EP, your horse will need a course of an antiprotozoal drug administered by your vet. Even after cured, the horse may continue to be host to the parasites for a long while.
This is a much rarer illness than the others listed here.
Conclusion:
Before ending I'd like to state that any of the above doesn't just apply to horses, but also mules and donkeys as they're all technically in the equine family.
It's also important to note that because the above-listed tick-borne illnesses are similar-presenting in the horse, the vet will likely run the blood test against them all to get a diagnosis.
Read Next: Are Botflies Dangerous To Horses?