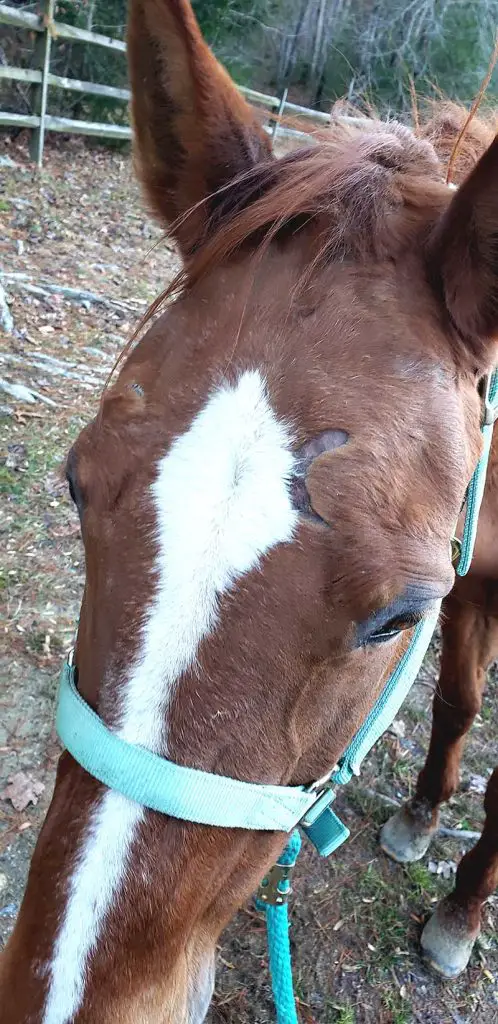 Our horse Harper is kind of a hot mess. At any given moment she's got scratches and bald spots on her body, and recently, we had a bit of a scare as she rubbed her face so hard that she had a huge gouge right above her eye (not the above photo, but a different incident).
We've only been horse parents for a little over a year and weren't sure why she was rubbing her face on the wood fence to the point where she was taking gouges of skin off of herself, but we were determined to find out why.
The last one was kind of a last straw for us as it looked like she was rubbing up against an exposed nail somewhere on the fence. I don't have a picture of it, unfortunately, but I had to find out …
Why does my horse get scratches and bald spots?
Your horse may be getting scratches and bald spots because she's itchy. Just as with you and I, our dogs, and other animals, a horse can get itchy. A lot of the time the horse is just itchy because of flies or similar. However, there are some more serious concerns if your horse is severely itchy. Just a couple of the reasons why can be mites or allergies. Both causes are easy enough to treat once identified. Let's take a more in depth look at these, and other reasons your horse could be itchy enough to be getting scratches and bald spots.
Chances are good that if you spend enough time around horses you'll eventually see themselves rubbing up on something to get at an itchy spot. It could just be that a few flies are driving the poor thing nuts. Remember, flies love horses and the first line of defense is actually something every horse needs, anyway.
A fly mask helps some face itchiness:
A properly fitted fly mask is an important tool for keeping your horse sane during the warmer months because they help keep the flies off the horse's face. At our barn we actually have a few escape artists who're constantly able to remove their fly mask. Trimming any excess strapping helps, as does making sure that the mask (with ears) fits the horse's head properly.
You don't want it so tight that it chokes your friend, but you don't want it to fall off, either.
Having a good fly mask, like this one on Amazon, is a good idea.
Bug spray helps get rid of certain itches, too:
Our horse seems to go through a lot of bug spray in the summer. But, I can't say as though I disagree. Flies love horses. If you've ever seen the horse's tail whipping around on a near-constant basis it's because he's using his tail as a fly swatter. In fact, as I snapped this picture of Travis his tail was returning back from swatting at a fly —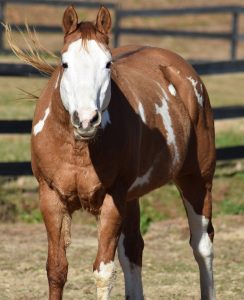 Some horses are just irritated by the flies, and others are downright allergic to them. If you suspect your horse is allergic to bug bites, sometimes referred to as sweet itch, you must do everything you can to prevent her from getting bit.
There are some other ways to combat this, however, that may end up paying for themselves over time. Of course you could mix up a homemade tonic of some sort of bug spray. We're working on a recipe of ours that will hopefully be ready for spring.
But, there are the above mentioned fly masks, and also horse fly sheets. And of course, you can buy fly spray in bulk.
Mane and tail mites (parasites) and how to get rid of them:
This is actually the reason why our poor girl was suffering so much in the fall of this last year. She had some mites on her forelock and mane and they were driving her absolutely nuts. It was so bad that she was going bald in certain spots on her face, and it seemed like every time we went to the barn to visit her there was a new scratch on her face.
The barn manager took a look at her and, sure enough, she had mites. Mites are like little bugs and chew or live on the horse. This can be incredibly irritating for the animal, which is why our girl was losing her mind and rubbing her face on nearly everything she saw.
The barn manager gave us the tip of mixing 50% Listerine Mouthwash with 50% baby oil, shaking them together in a spray bottle, and applying liberally for several days. Sure enough, that stuff worked wonderfully.
It looked like she had a really bad case of dandruff on her forehead area, and there was a lot of dead skin.
The key here is to prevent the mites from turning into something worse, like mange, which is much harder to get rid of.
Horse lice is another source of itchiness:
As I sit here and write this article I can't help but scratch all over just thinking about all these crawly creatures. While many falsely believe that only neglected horses can get lice, any horse can be susceptible to it. There are different kinds of lice that can be found on horses, those that are sucking and others that are chewing.
Neither are good. And, while lice don't jump or fly to another animal, they can be highly contagious if the animals come into contact with each other. Being that horses have a heard mentality, stick together, and can be affectionate towards one another, lice can easily spread.
All of my research has led me to believe that people cannot get horse lice, but I'm not about to go hugging on my girl if she ever does get horse lice.
What's important is that if you suspect your horse has lice, to contact the vet to get it identified and treated. Most veterinarians recommend all horses in a barn be treated for lice even if they're not showing any signs of infection.
Horses can have itch-causing allergies:
This is actually a form of allergic dermatitis, but horses can be allergic to certain kinds of plants that they may eat and many other things that they may come into contact with to include their feed.
What to look for when your horse starts to get scratches, scrapes, and bald spots:
The first sign that there may be a problem is noticing the scratches, scrapes, and bald spots to begin with. Or, if you notice your horse seems to be itchier in a new spot, there could be something going on.
To be honest, I don't groom our horse, my daughter does. I help sometimes because I actually find it soothing, but old girl doesn't really seem to like me all that much. Still, one thing I do whenever I go to the barn, which is usually weekly for me but several times each week for my wife and daughter, is look her entire body over.
Because we don't have the best lighting in the barn, I bring a good flashlight with me and look her over the best I can. She may not like me but I like her and she's a part of our family. So, many of the things she's gone through, like the mites, are things that I've found because I look her over very well.
I document and inspect every scratch and I try to take pictures of them so I can compare to later. One thing that you'll notice, is that horses can be very expensive to take care of so we have to do all we can to catch something before it gets worse for both the animal, and our wallet.
Call the horse veterinarian:
If all else fails and you just don't know, the best thing to do is to bring in someone who sees this sort of thing on a more regular basis. For us, it was our barn manager. For you it may be the vet. No matter what, you need to get your friend the proper care she needs.
Itchiness, bald spots, and scrapes conclusion:
If you see your horse is starting to hurt herself and getting scratches, scrapes, and bald spots, she may be trying to tell you that there's something else going on. The best way to get to the bottom of it is to inspect he animal to see if there is an underlying cause. And, if you can't come up with a reason why, maybe another set of eyes will do the trick.