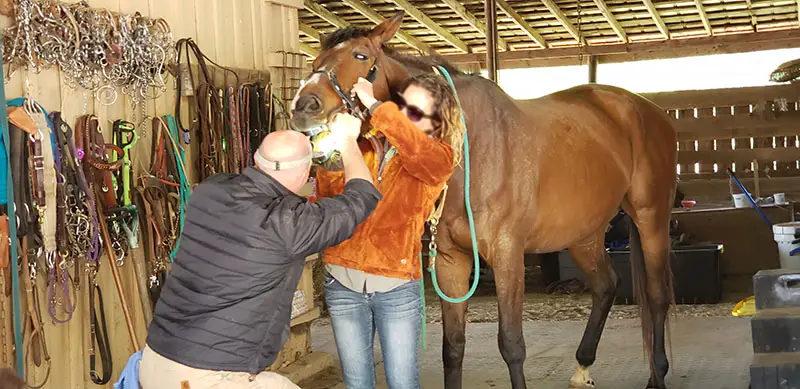 There are a lot of veterinarians out there. Even in our remote area, I can think of several different equine vets who travel, and several more who don't travel.
It's a good idea to have a good relationship with your veterinarian, and it can actually save you a lot of headaches down the road if you take the time to build that relationship.
Let's discuss this further.
You can save money
First up, is that having a good relationship with your vet can actually save you money. There is a common misconception that horse folks are wealthy. People who think that have obviously not met any real horse folks because most of us are actually broke.
This means that we're always trying to save money at all times. If there is the slightest chance that I can save some money on horse care whether it's buying food or shavings in bulk or combining medical services, I'm going to do it.
Your veterinarian can actually save you quite a bit of money if you know how to do it properly. If you have a good relationship with her and pay your bills regularly, they may take better care of you.
For example, we just had the "teeth and sheath" done on our gelding. Well, we saved 20% on the teeth, and she included the sheath free of charge.
Read Next: How much does it cost to have a horse.
You can save time:
Something else that we aren't afraid to do is what is known as a sidebar. A sidebar is actually a medical term from my wife's former job as a nurse in a hospital. She was a pediatric nurse and if one of our kids had a medical issue like a gastrointestinal problem, she'd "sidebar" the GI doctor she knew and asked for advice on the matter.
Much in the same way, if we have a question about our horse like if he's walking strangely, or has something else odd going on that we've never seen before, we take a picture or video and send it to her.
If it's nothing to worry about she tells us which saves us a huge amount of time, as opposed to having her come out. If it is something to worry about, we have her come out.
This one has the side benefit of saving money because she doesn't always need to come out.
It can also save you time if your vet sees multiple horses at the same barn. If you took the time to build a relationship with your vet, she may squeeze you to the front of the line so you can get seen first.
Conclusion:
Taking the time to build a relationship with your veterinarian, and even your farrier for that matter, is a good idea. It can pay you back in dividends, and having an extra friend can't hurt, either.