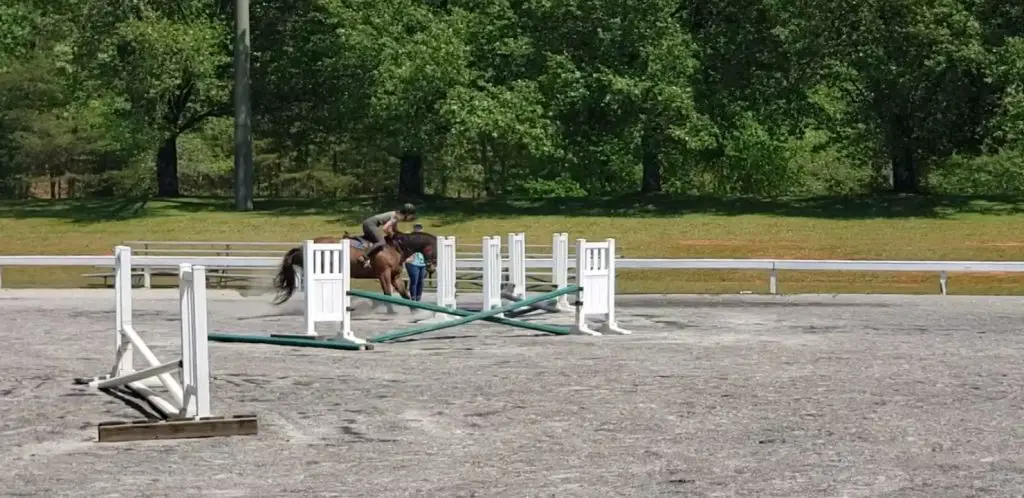 All horses refuse jumps at some point in their lives for one reason or another. Any horse can and is able to jump, as long as they're physically able to do it, of course.
We once saw a 20 year old mare compete the first jump course of her life, and she did so with ease and grace. If she could do it, so can your pony.
If your pony is refusing, it's a good idea to troubleshoot why, so you can correct it, or get her treated if she's lame.
Why does my horse refuse jumps?
There are a plethora of reasons why your horse may be refusing to jump for you. Your horse may be sore, unfamiliar with the jump, getting confused based on what you're telling him, or any of the other reasons we list out here.
This list isn't meant to be the end all list of why your horse is refusing to jump, but is certainly meant to get you on the right track to figuring out what is going on.
Let's take a more in depth look at the reason why your horse refuses jumps —
1) Rider Error:
Rider error is one of the more common reasons why horses refuse jumps. Nobody wants to hear it, but there is a solid chance that you just did something wrong. Maybe you didn't line up on the jump properly, or maybe you pulled on the reins giving the wrong signal.
There are a host of things a rider may be doing wrong, and I won't be able to help you figure it out because I'm not with you.
The Rider Fix:
The best thing for you to do if the problem is rider induced is to have a trainer help you figure out what it is you may be doing wrong. If you don't have a trainer to help you, setup a camera and record yourself trying to jump.
You can gain a lot of insight by looking at yourself from a different perspective.
2) The Jump Itself:
Sometimes, there can be problems with the jumps themselves. If a jump is too high, or is unfamiliar, your horse may refuse it.
Another common issue is if the ground is slippery without secured footing.
We have a Thoroughbred Gelding who is absolutely terrified of flowers placed under jumps. It is a work in progress, but we tend to not do shows where this type of jump is a possibility, at least for now. Once we get him used to this type of jump, which we are working on, we'll change our thoughts on that.
The Jump Fix:
The best thing you can do if the jump is the problem, is to let him look at it. Or, if it is too high — lowering it may be a good idea, especially if your horse is new to jumping. There is nothing wrong with starting a horse from the beginning and working him up.
Also, always make sure your horse has secure footing for jumping.
3) Your Horse is Off Balance:
There are a few different topics concerning balance while riding a horse. If you or your horse is out of balance it could certainly cause problems. However, what we're talking about here is about the balance of your horse, specifically.
For example, if your horse got to a bad takeoff spot, he might not think he could safely jump.
The Balance Fix:
Try again. This one is similar to rider error, but occurs enough on its own that it deserves its own category. Make sure you're lined up on the jump right and find the correct takeoff point to help your pony feel safe enough to jump.
4) Your Horse is Lame or Sore:
We recently just retired our old mare because, while she was still young enough to ride around on the flat, jumping was a bit too much for her.
She wasn't lame, so to speak, because she was given the all clear from our veterinarian. Still, her jumping days were over and we wanted to prevent her from getting hurt.
The Lame Fix:
If you suspect that your horse is sore of lame you should get off immediately and have your vet come check her out. Don't jump until cleared.
5) Your Confidence is Lacking:
It is a well established fact that horses are in tune with their rider. In fact, a horse can be so in tune with their rider that they can pick up on you second guessing yourself.
If you're not sure you want to get over that jump, for whatever reasons you have, they won't want to get over it either. We've witnessed this firsthand. Our newer horse, a Thoroughbred Gelding, is 17 hands. It's natural that my daughter is uneasy when jumping a 2-foot jump.
At that point, she's at least 37 feet in the air. Why wouldn't she be a little uneasy about that?
The issue, is that he picked up on it and began to refuse jumps.
The Confidence Fix:
The best bet for fixing confidence while jumping your horse, is to lower the jumps. Or, better yet, rebuild your confidence with a good instructor who can help you build your confidence.
Please notice that I said a "good instructor." Not all riding instructors are good. If you don't know if you have a good riding instructor, I encourage you to check out that link which leads to an article I wrote on that very topic.
6) Your Horse is Green:
Green basically just means inexperienced. If your horse has never seen a jump before, or that type of jump, or has never attempted to jump, has never left his friends, has never gone into an arena, etc., he is green.
This is fine, because all horses are green at some point in their lives. It takes practice, love, and patience to help your green horse move up in the jumping world.
The Green Fix:
The best thing you can do is keep practicing, keep riding, and build up his confidence.
I'd also like to say that having a solid foundation is key. Too often do we see riders jumping before they should be because the parents aren't seeing progress, or the jumps are not increasing in height.
Truth be told, there is a correct order of things and an incorrect one. If you're just concerned about jumping height, it's the wrong way to look at things.
Again, a good instructor helps with this.
Conclusion:
Horses refuse jumps all the time. If yours is giving you a run for your money, figuring out why is a necessity. I hope the above tips helped you out.