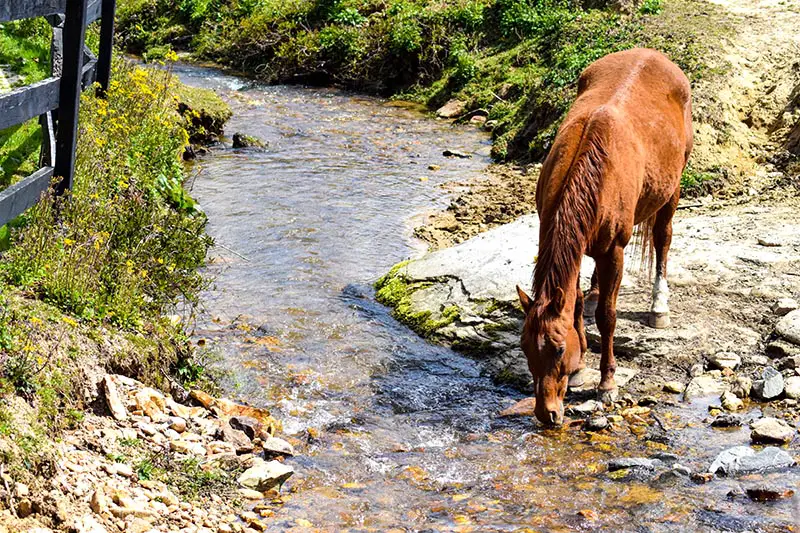 Water is an important part of your horse's diet. All ponies, as well as all people and living things, need to take in enough water each day in order to be healthy.
If your horse doesn't take in enough water he could get sick which is obviously not a good thing.
But some horses, like ours, really don't like to drink enough water and that is a big problem, if you let it get out of control.
We've had to come up with different ideas to get him to drink, and figure out why he wasn't drinking. Let's take a look at what we've learned.
How to get your horse to drink more water:
You should attempt to get your horse to eat more salt, provide clean drinking water, or provide familiar drinking water to get him to drink more. Salt intake in particular is something that is often overlooked, and is an easy fix for getting a pony to drink.
In addition, just like it is for you and I, salt is an important dietary addition and your horse needs a certain amount of it to remain happy and healthy.
You should provide him with salt and plenty of water, in addition to all of the food and hay he's supposed to be eating, which we'll cover in a future article.
Let's take a more in depth look before discussing what happens to your horse if he doesn't take in enough water each day, and finally finding out how much water your horse needs every day to remain healthy.
Your horse's salt:
Salt is an important part of the diet for all living things. If your horse's sodium level drops too far, it won't tell his brain that he needs a drink. Keeping the salt intake up is important for keeping him hydrated, as well as keeping him in balance for other reasons that I won't touch on here.
Adding salt to your horse's diet is a necessity.
You can add salt directly to his feed, and some supplements, like the Redmond Daily Gold that we use, have salt in them as well.
But it's also recommended to get a salt block for his stall, and another one for his pasture. You want to provide ample opportunity to let him get the salt he needs to trigger his brain to think about getting a drink of water.
Clean water and buckets:
Take a look at your horse's water bucket. Is it clean? If the answer is no, then you might want to clean the bucket for him. Our horse is an absolute slob when he's eating his hay and constantly drops hay into his water bucket if we forget to move it.
Being a slob would be fine, if it weren't for the fact that he's also an absolute snob when it comes to the cleanliness of his water. You'd think it would be fine, being that he still has bits of the same hay in his mouth. Nope.
Once there is any hay floating in his water he refuses to drink it.
Scraping it out doesn't even help. He refuses to drink out of that bucket for the rest of the day.
Why? Because he's a water bucket snob.
It's an easy fix. Once we realized what was going on we moved the placement of the bucket to the hay net and all is well. Well, except for the next problem.
Familiar water:
This one may sound kind of silly, but hear me out. Some horses refuse to drink water that they're not familiar with. Our horse Delta Ray (pictured below) is a horse who refuses to drink water that doesn't come from his barn.
He wants to drink water from the source he's familiar with.
So, when we go to horse shows, we try to fill our water jugs with the barn's water so he'll actually drink it. If your horse refuses to drink when you're not at his home try bringing some water from the source he usually drinks it from.
Again, it sounds silly, but if your pony isn't drinking when you're out at a show or something, this could be the reason why.
How much water does my horse need to drink every day?
On average, each horse needs to intake between 8-12 gallons of water each day, maybe more depending on your horse's specific needs.
Some horses will need to drink more than that. It really depends on what your horse is doing, how active he is, etc. But, as a rule of thumb, your horse should be getting 8-12 gallons each day.
So, make sure you're providing him with at least that much. If you have multiple horses in one pasture, you should make sure they each have that much each day.
Water in the winter months:
It may seem counterintuitive because it tends to be colder in the winter months, but you need to make sure your horse gets enough water in the winter, too.
To some degree, dehydration may actually be worse in the winter because nobody thinks the horse is dehydrated, and his body isn't telling him he's dehydrated — even if he is.
Make sure you provide the salt we spoke about above to trigger the need for water all year long to make sure he's getting enough of it.
What happens to my pony if he doesn't drink enough water?
If your horse doesn't drink enough water he won't be healthy enough to go about his daily activities, and he especially won't be able to work for you properly.
(By work, I mean do stuff with you riding him. So, jumping, flat work and dressage, barrel racing, whatever it is you do — while fun, is technically work.)
Dehydration:
Any animal who is dehydrated will NOT perform to their highest potential.
Any animal who is dehydrated for an extended amount of time will get sick.
Think about it: Have you ever been out in the sun for a while or exerting yourself hard and then began to get a headache? Chances are good it was dehydration. If it goes on for too long it can get worse and continue to spiral you down, causing other health issues like heat stroke.
Heat Stroke or Heat Exhaustion:
I'm very familiar with this since I had a heat stroke when in the Marines while on a long march with full gear and a rifle. I didn't drink enough water in the days leading up to the 15 mile march, and regretted it later.
I ended up passing out on the side of the road a few hundred yards from the barracks and I woke up in the battalion aid station hooked up to bags of fluid. 20 years later and I still struggle with the heat and regulating my body temperature.
Horses can also get heat stroke which is something that must be avoided at all costs. If your horse stops sweating when he's working, get him to the shade and start cooling him down immediately.
Consult your veterinarian.
One of the main keys to avoiding heat stroke, or the precursor to it which is heat exhaustion, in your horse is to get him to drink enough water.
Impaction Colic:
Impaction colic is a dietary colic that can happen when the pony's food gets compressed somewhere inside the digestion system. It happens because there isn't enough fluid inside the horse's body to keep things moving.
The intestines get blocked, backed up, and it causes the horse pain and may need to be remedied by the veterinarian.
If you suspect this is happening call your vet immediately.
Conclusion:
Water is an absolute necessity for all living things, your horse included. I hope that if you need help getting your horse to drink more water, that the above tips will at least help. We've gone through this, and still struggle with it ourselves.