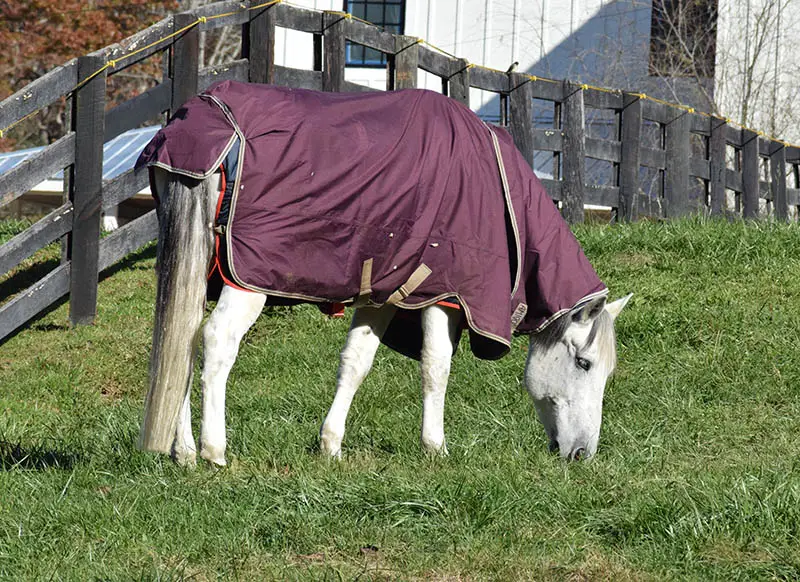 Taking care of a horse in the winter time is different than other seasons of the year. Reason being, if you don't take the proper steps to take care of your horse, she can suffer through the winter, or worse, get sick. So, how do you take care of your horse in the winter?
Below are some winter horse care tips to help you on your way, based on what we've learned so far with our American Quarter Horse, named Harper.
Winter Coat and Grooming:
Chances are good that you've already started to notice your horse's coat growing in and getting thicker. This extra hair on her coat will definitely help her stay warm and won't stop growing in until December 22 (source). What you don't want to do here, is stop brushing her just because it's cold out.
If anything you want to try and stick to whatever you're already doing the rest of the year as much as possible. This will help to keep your horse's coat in good shape, and help you spot any issues that may be forming underneath the blanket if your horse requires one.
Ideally, you should already be grooming your horse at least several times each week, if not every day if your schedule allows.
During your regular winter grooming, it's a good idea to also take a pick to the hooves to make sure they stay in good shape and to make sure that there isn't any packed snow, mud, or ice inside.
Does My Horse Need a Blanket?
Depending on your climate, and your horse, you may not need a horse blanket. If it's 40 degrees out, your horse may need a lightweight blanket. If it's about 10 degrees below out, a heavier blanket will be needed (source). A couple important tips to remember about horse blankets, are as follows:
Never put a blanket on a wet horse
Don't put a blanket on your horse when it's hot out
Use the appropriate type of blanket for the weather you have
Breaking that down even further, putting a blanket on a wet horse will have the opposite affect. It won't warm the horse up, but cool it down more, which could be a bad thing. It does this because the blanket won't allow the horse to dry and will just trap the moisture on her body.
When you put a blanket on your horse when it's hot out, it could cause her to sweat leading to the same issues you'd have when cold out, especially if the temperature drops at night and your horse has been sweating all day.
You'll definitely want to use the proper type of blanket that your horse needs both for her size body and the weight of the blanket, depending on how cold it is outside.
There are horse sheets, light blankets, and heavy blankets for you to choose from. You may need all three depending on your horse and your climate.
Proper Winter Exercise:
You'll still need to exercise your horse on a regular basis to keep her in shape. If it's too cold to ride for extended periods of time, exercising in other manners, like lunging, is also beneficial. If you don't exercise your horse enough during the cold winter months it could lead to problems like leg swelling.
You'll want to keep a few things in mind, though. First, deep snow can be difficult for your friend to walk through, causing unneeded strain on legs and the ligaments within. Not to mention that really deep snow can disguise what's underneath it causing her to trip.
Also, try to avoid ice as your horse will lack any traction causing its own set of problems. Before you exercise your animal, inspect the area where you plan to ride or lunge to make sure that it's safe for both of you. If you've got an indoor arena where you can ride it's not as big of a deal.
If you're stuck outside in January or February, it can be tough, but can be very beneficial to your horse.
After exercising your horse, it's important to allow time for sweat to dry and still give a proper cool down.
Proper Winter Hydration (water):
Many horses won't drink as much water during the winter for any number of reasons, to include the water may just be too cold.
There are a couple ways you can help combat this, and to prevent impaction colic (an illness that can occur from not drinking enough water).
First, consider a heated water bucket to entice her to drink more. It sounds ridiculous, but I once read somewhere that horses prefer water to be at least 45 degrees. The extra cost for warmer water is a small price to pay for the comfort of your horse, not to mention it may prevent impaction colic.
Second, is adding more salt to her diet. A traditional salt block may be sufficient, but if it doesn't work it could be because your horse is particular on the temperature of the salt block if it's really cold. If this is happening and you notice your horse not drinking enough with the other tips, consider throwing loose salt into her feed pan to increase her thirst.
According to the University of Minnesota, a 1,000 pound adult horse needs at least 10-12 gallons of water each day (source). In the warmer months, much of your horse's water will come from green grass. Hay contains much less moisture, so the water intake needs to rise.
Winter Horse Diet:
Believe it or not, your horse will likely eat more during the winter months. Making sure she has enough food is good, but even more important is making sure she's got the right kind of food for the time of year it is.
Providing a steady diet of hay each day during the winter months is a good idea because as their food digests it tends to heat them up from the inside.
Because hay tends to digest at a slower rate than other things in her diet, it may be a good idea to make an attempt at slowing the intake down a bit so she gets a consistent amount throughout the entire day.
Conclusion:
It is absolutely imperative that your horse stay healthy during the  winter months. You're the best judge of what is needed because only you know your particular animal, the climate in which you live, and how well your horse can handle it.
Taking some of these horse winter care tips and putting them to use will help your horse stay comfortable and healthy during the long winter, and give you peace of mind.