The all-white horse is something of myth and folklore, sometimes made famous in movies. One horse that comes to mind for me, for example, is the beautiful Andalusian Stallion from the Lord of the Rings Movies.
His name is Shadowfax and he's the one all the way to the right: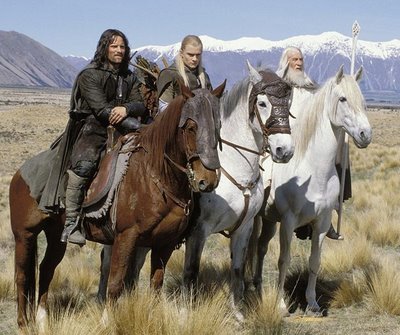 Shadowfax is said to be the lord of all horses, is wild, and is untamable unless you're a wizard like Gandalf is.
Something that is a bit confusing, is that most of the horses that have white coats aren't actually white. Most of them are grey or cream colored and have faded hair, but started out as another color.
A true white horse is one that was born and stayed that way throughout its life.
This leads to the question, then:
Are there really any true white horses?
There is actually one specific white horse breed and it is one of the newer ones in America. The Camarillo White horse has only been around for a hundred years. The issue with this breed is that not all of them are white and there are only a few dozen of them currently alive.
All of the white horses seem to date back to a Spanish mustang that was born in 1912 called Sultan.
What makes the Camarillo horses so special? According to the association that bears their name, they have a unique gene mutation that causes them to have their pure white coat with pink skin underneath.
The below picture is a Camarillo White Horse:
And, that's the difference. Some white horses are actually grey in color, and as they age the color of their fur lightens.
The Camarillo White Horses have pink skin and dark eyes. Keep the eye color in mind, because it is important later on.
Are There Albino Horses?
There are no true albino horses who make it to adulthood. In order to be in the albino category the horse needs to have white hair, pink skin, and red eyes. There would be absolutely no pigmentation.
Many of the horses labeled as albinos have blue eyes, but they're not actual albinos, they're usually a horse that has two cream genes present, but was not white at birth.
There have not been any true albino horses who lived into adulthood because most of them are underdeveloped and die. In other words, even if they were to survive the birthing process the horse would not be able to survive for long, usually due to underdevelopment.
A horse with blue eyes is not an albino. It is probably a Cremello or Perlino, which we'll discuss more in detail below.
Perlinos and Cremellos
A perlino horse is a bay-colored horse with two copies of cream in their genetics. They look very similar to cremellos but are slightly darker. 
They tend to have cream-colored coats and pink skin with blue eyes.
A Cremello horse is a black, chestnut, or sorrel-colored horse with two copies of cream.
Animal geneticists can do genetic testing for the mutation responsible for cream dilution. This can also confirm the specific color based on the genetic makeup.
A single cream gene may turn a red horse into a gold color. If there are two cream genes present, it can go from red to white.
In terms of eye color, one cream gene may turn light brown eyes to a rich golden color. If there are two cream genes present, they tend to have blue eyes.
Overo Lethal White Syndrome (OLWS)
OLWS happens to some white horses. Essentially the foal has two copies of a genetic mutation giving them blue eyes and a white coat. Some of them may have some black marks on the tail, mane, or head.
Aside from the coloring being white, the foal seems to be completely normal. However, after a while, the foal begins to suffer from colic because the intestines weren't fully developed and it can't poop.
The only cure for this is for the baby horse to be put to sleep because there really is no cure. Not all white horses suffer this fate, however. You can learn more about this, here.
Conclusion:
There are some pure white horses that make it to adulthood. However, they are rare and most "white" horses are actually a different color altogether, like grey.
For us, and most horse lovers, the color isn't really important. What is important, is the horse itself, and being able to spend as much time with her as possible.