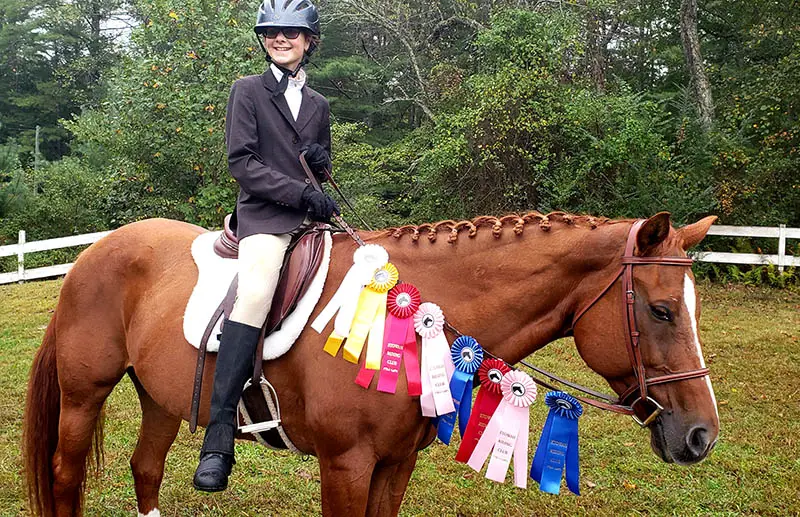 *Editor's Note*
Properly prepping for a horse show will help ensure your success, and make sure both you and your horse are in tip top shape. Below, Hannah, our 12 year old horse fanatic, will walk you through how she gets ready for one of her shows.
You should always get ready for a show the night before the show. Most schooling shows are only a day long, while others are longer. Still, others like the WEF (Winter Equestrian Festival), can be an entire week. The rest of this post will discuss how to get ready for a hunter/jumper horse show.
Things included in show prep are braiding, bathing, and packing. If possible, it's best to arrive at the barn around noon.
When I get to the barn I first bathe her. If she has dried mud on her I groom it off before the bath. I do this because the hose will only make it harder to get off. I use a bath brush when I wash horses. A bath brush is a grooming brush with a sponge in the middle and hard bristles around the edges.
Bathing Steps
Rinse Horse — ALWAYS do the legs first then work your way up the body. You don't have to do the belly but you can. It just takes a really long time to dry.
Put a small amount of shampoo on your hand or brush and scrub. With horse shampoo a little goes a long way because it is hard to get off.
Mane — Only clean the mane if it's visibly dirty, dandruff helps your grip for braiding. Rinse the mane and put some shampoo on your hand and work it into the mane. Keep doing this until the mane is soapy. Then rinse it off. If you use one, now is the time for conditioner. Let it sit in the mane for 5-10 minutes while you condition the body.
Conditioning Body — It's best to just use your hands for this. Make sure to get under the mane because you'll be braiding it later. Let it sit for a while so you can do the tail.
Washing the tail — Again, don't do this if you're braiding it or it's visibly dirty. Fill a CLEAN bucket with water and pour some shampoo into it while the water runs. Put the tail into the bucket and then take it out. Rinse VERY thoroughly. Then condition it.
Condition the tail — Make sure it's really wet then put conditioner into your hands and work it into the tail.
Rinse the mane
Rinse Body — Run your hand over the coat as you rinse to get any excess shampoo or conditioner out.
Rinse the tail — Make sure to get it ALL out.
Sweat Scraper — Use a squeegee like tool to scrape of any excess water.
If possible, it's best to tie your horse in the sun after a bath to dry. While your horse dries you can move on to something else, like tack cleaning. You can do a deep clean or a short one. If you need to deep clean your tack you need to take your bridle apart and clean every piece individually with cleaner, polish, and conditioner.
If your bit is dirty you can buy bit wipes or just scrub with water and a cloth.
If the saddle also needs to be done, you need a wide variety of things. You can pick and choose what you want though:
Detach stirrups/stirrup leathers — Some people use spray on cleaner with a cloth and others use traditional Saddle Soap and sponge. It is best to use a cloth for straps like stirrup leathers.
Stirrup irons – An electric toothbrush will work best for the bottom part where your foot goes. You can just dip it in water. For the rest of it just use water and a cloth.
Nooks and crannies — use a normal tooth brush with either saddle soap or spray on it.
Rest of saddle — Use your soap and sponge in any way you want. (Repeat these steps as needed with your boots).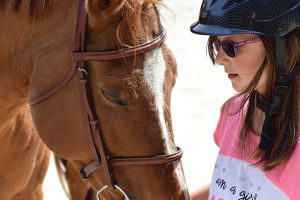 Tips on how to keep what you cleaned, clean:
Put your saddle in a saddle bag or case
Put your bridle in a bridle bag
Put a cooler sheet or dress sheet on your horse
Don't turn your horse out
What to Pack to a One Day Hunter Schooling Show
Bridle
Saddle
Show Pad
Hoof oil (optional)
Show Outfit
Crop (optional)
Splint Boots (not allowed at most schooling shows so check the rules)
Special Show Halter/Lead Rope (optional)
Buckets
Groom Kit
Lunge Line
Lunge Whip
Horse Treats (optional)
What to Wear to a Hunter Show
Show jacket
Show shirt
Tall Field boots
Helmet (This one on amazon is similar to mine in the above picture)
Black Gloves
Hairnet/Bun holder
Classes at Hunter Shows
As a bonus, it's a good idea to know what classes you'll be in before the show starts so you can be prepared, like if you have to memorize a jump course, for example. Here are a few examples of classes:
Flat classes are those with no jumps or poles and has multiple horses in the ring at one time. There are many different varieties of these classes like equitation, bridle path or pleasure, and there are even more within this. You can choose to do a walk-trot class or a walk-trot-canter class.
There are also Showmanship classes which is when you go into the arena unmounted.
The way it works is that you lead the horse by the bridle and perform the course. Most Showmanship courses include weaving through cones, trotting, walking, halting, backing, or pivoting and are judged on how well the horse behaves.
You'll especially want to practice the pivots, backing, and halting because most horses make a fuss about those tasks.
Another class offered in Hunter shows are the jumping classes. They are offered in a variety of different heights. For the smaller jumps it may be an option to perform the class at a trot.
Conclusion:
We hope this helped answer any questions you may have about getting ready for your first hunter/jumper show. How have you gotten ready for yours? Let us know in the comments below.