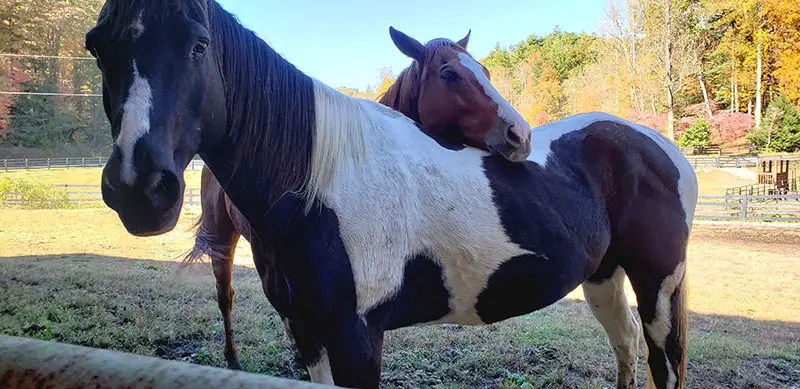 Each horse I've ever had the privilege of meeting had its own personality. These animals are a lot smarter than we know and they are capable of deep emotions and affections.
What's more, horses are heard animals, meaning that it's in their DNA to be around other animals. They have a hierarchy in the herd, and, for the most part, these animals know their place in that herd.
If you look close enough when your horse interacts with the other horses in his herd, he shows affection towards at least some of them. Maybe they give each other gentle nudges, or rest each other's heads on the other's back. Or, maybe they follow each other around.
Horses show affection, and they tend to know and love the people in their lives, as well.
I know the following to be true because I've witnessed it and have experienced it firsthand. I've seen horses that show their owners affection and others who don't.
Our mare quarter horse, for example, has done none of these things to me, but has to my daughter. Then again, our OTTB gelding has done these things to me and my daughter.
How do horses show affection?
Horses show affection toward people and other horses in similar ways. When one horse likes another, it will generally follow the other around. They have also been known to nudge and rest their heads on other horses, as well.
Let's take a look at some of these ways more in depth.
Gentle Nudge from a horse:
A nuzzle from a horse could be one of a few different things, and it could be different from one nuzzle to the next. But it could be affection.
Or, it could also be that he knows you're the bringer of treats. Then again, maybe he has an itch and you're the closest thing to scratch it on.
In other words, not all nuzzles and nudges from a horse are affection, though they could be.
Your horse rests on you:
Horses tend to lean and rest on each other when they are with horses that they like, much like in the above picture. They also do this to people that they like and trust. Though they're so much bigger that it may seem like they're just trying to push you over.
Our gelding will put his head a bit lower and push the top of his over so that it hits my stomach. He'll just leave it there for a few moments. I believe this to be a form of affection.
When your horse is obedient:
Some horses won't be obedient to you no matter how much they like you and it might not have anything to do with you. The reasons why they don't listen are wide and varied from one to the next. It might be because they don't feel well or have something else going on like they just don't know better yet.
Other horses won't listen because they don't like their owner.
But for other horses, they want to listen and this is sometimes a form of affection toward you, just like it is within the herd from the top two horses in the hierarchy. The other horses are obedient to each other, and to people.
When your horse follows you:
Finally, we have following. When your horse follows you around, it's usually a sign of respect and affection. Horses tend to follow each other around when they want to be with the other horse.
The same is true when your horse follows you. I've experienced this personally, just a couple of weeks ago. Our new gelding OTTB began to follow me around the arena. It was sort of hilarious because I wasn't expecting it.
I ran over a few ground poles, and hobbled over a cross rail and each time he followed me. He even seemed to enjoy this new game we were playing.
Horses generally don't follow animals or people they don't like or trust, which is why this is a sign of affection.
I've experienced this firsthand with a different horse that wasn't mine. His name was Barry and he developed a condition that caused the owner to put him down. I was sad that day because I had a strong bond with him.
When we pulled up to the barn I would yell his name, to which he would respond with a whinny and then would run through the pasture and over to the fence closest to where I was to greet me.
It was a sign of affection.
Conclusion:
All horses are different, and even if your horse doesn't do any of these things, it doesn't necessarily mean he doesn't like you. Maybe your horse is different somehow.
Some horses do show this type of affection, however, and if he does you have a strong bond with your animal.