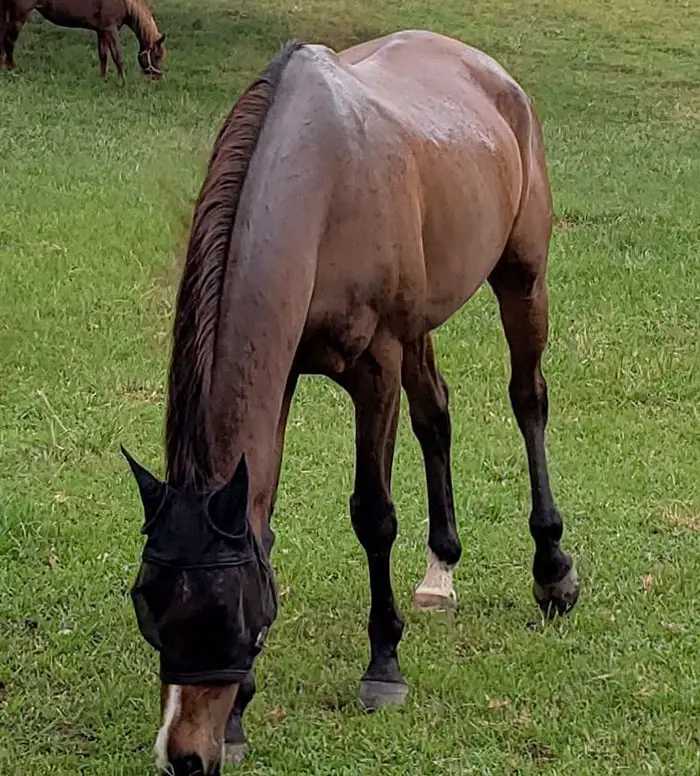 We are currently heading straight into the active fly season across the entire United States. This means that all of our horses are about to be driven absolutely bonkers by these flies, some of which bite.
There are certain steps that you can take to help your horse feel a little more comfortable during fly season, which we're about to discuss. We'll start with the obvious question:
Does my horse need a fly mask?
If your horse is constantly embattled by flies buzzing around his eyes, it's a good indicator that your horse needs a fly mask to help protect him.
One of the ways that horses deal with flies is to whip their long tails around. Then again, you'll often see horses kicking around with one of their legs, and even bucking if a massive horse fly is dive bombing them.
The sad thing, though, is that not all horses tolerate masks. Our current gelding had a brand new mask for a total of three days before it was tattered beyond usefulness. He plays with his friends in the pasture, and they actually remove each other's masks.
So, even if your horse needs a fly mask, you may not be able to keep one on him. If that's your issue, keep reading because I have some other solutions.
(You should still start with a fly mask, because it's the easiest solution. This is a high quality horse fly mask conveniently found on Amazon.)
There are some alternatives to a fly mask if your horse won't tolerate it, or if you want to provide some extra protection.
Horse Fly spray:
Another item that you can buy is fly spray. Fly spray tends to work very well in short bursts, but is far from a long term fix. It wears off very quickly and won't really help as much as you'd want it too.
Having said all of that, not all fly sprays are created equal. The only horse spray that seems to work more than 20 to 30 minutes, is the Ultra Shield line. That is what we use for our gelding, conveniently found here on Amazon.
It works well, resists coming off with sweat, and does a great job to repel flying insects.
Fly sheet and fly boots:
Another option is to put a fly sheet and/or fly boots on your horse. This is not something we do currently, but know people who use one or the other of these products, and sometimes both.
In all reality, it depends on how much stock you put in these products and their capability. Some folks swear by them, but I think the flies can still work their way underneath the products to irritate the horse.
That said, it is harder for the fly to get in, so there is that.
A fly sheet is kind of like a horse blanket, but is not heavy enough to warm your horse up too much. They're usually made from a breathable material.
Fly boots, on the other hand, are just boots that wrap around the ankle area (pastern/fetlock), and are then pointed upward to stop around the knee or hock joint.
Pasture at night:
One option that many people don't think to try, is to pasture the horse at night and stall them during the day.
Don't get me wrong, there will still be flies in the stall, but there should be fewer of them and you can add some fly traps to help keep them under control a bit.
There may be more of the other insects out at night, but the number of flies will be limited which will help your horse's comfort level out tremendously.
A side benefit to this, is that you can put a fan in your horse's stall which will help him to stay cool, and help even more with the flies.
Remove the poop:
I didn't really know what to call this one, so suffice it to say that if the flies are really bad, it may be a good idea to throw the horse waste from the stall cleaning somewhere outside of your horse's pasture.
There are a lot of mixed views on this, but it cannot be disputed that flies love poop. If you have a big pile of the stinky stuff, mixed with horse urine, shavings, along with whatever is left of his hay and food, it can attract flies.
We've been to a couple barns where they actively put the stall waste out in the pasture with the horses. Again, flies like poop, and it may be helping them find the horses.
It may be a good idea to put it away from the horses to see if that helps lower the number of flies bothering your equine friends.
Conclusion:
There are some things that you can do to help protect your horse from the annoyance of flies. A fly mask and fly spray are certainly good places to start, and then adjust from there depending on how bad the flies are at your barn