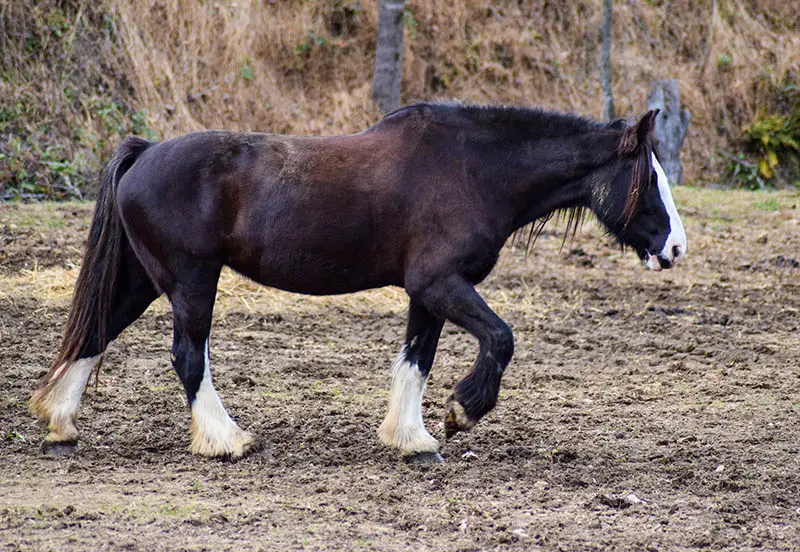 My daughter is the one who started this whole horse obsession of ours. I didn't think I'd like them as much as I do, but I surprised myself. Not only do I like the horses at our barn a lot, I find myself wanting to ride one more and more.
But, trying to find a horse that I can ride without feeling like I might hurt the animal is tricky.
I'm a big dude. After all, I weigh 300 pounds and I'm 6'4″ tall. My point in telling you this, is that I'm not going to get on the back of our Quarter Horse out of fear that I'd hurt her.
I need a big, strong horse that's capable of carrying a big load. This led me to the knowledge that bigger draft horses like a Clydesdale would be perfect. The bigger draft horses are generally stronger than their smaller cousins are.
Of these draft horses, I really wanted to answer the following question:
What is the biggest horse breed in the world?
There are a couple of horses that come close to being the largest horse breed, such as: Belgian, Clydesdale, and the Percheron. But the Shire horse is consistently the largest horse, on average, out of all the draft horses. On average, a Shire Horse is more than 17 hands tall (sometimes as small as 16.2 and as big as 21) and can weigh as much as 2,200 pounds.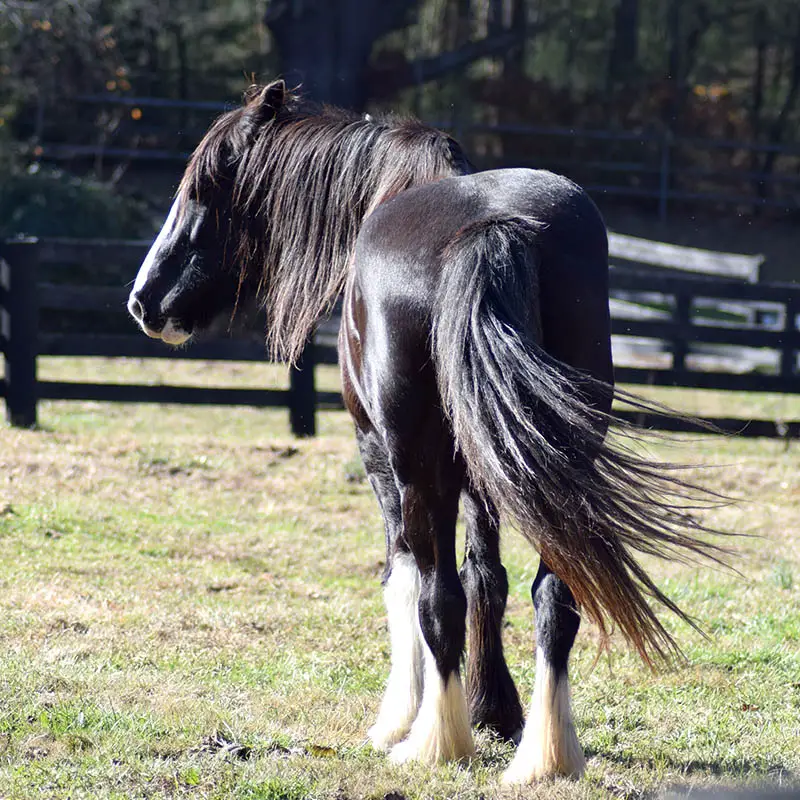 Shire Horse Size
The Shire Horse is generally a very large draft horse. It's on average the biggest horse breed on the planet. They can weigh as much as 2,200 pounds and can range from 17 to 21 hands tall.
When we say "on average" what we mean is that if you take a large sample size of different draft horses, more Shire Horses will be bigger than the others.
We have a Shire Horse mare at our local barn where we board, and she is massive. She's strong with large, deep shoulders and thick legs. As you can see in the below picture I snapped of her, she's much bigger than the horse she's butted up to.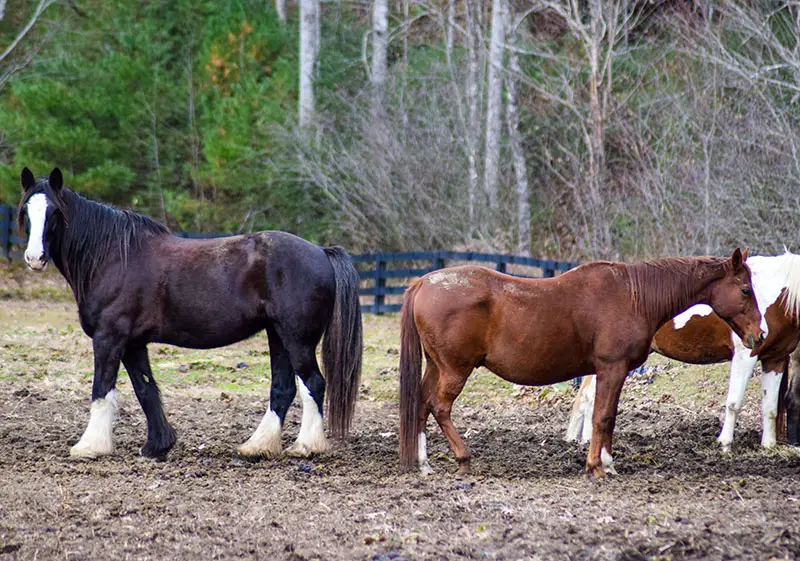 The male Shire Horses are generally larger than the mares are, as with most horse breeds. The head is equally massive and the neck tends to be very tall.
They usually dwarf all other horses in the vicinity, except for other draft horses and have held world records for being the biggest horse on numerous different occasions. In fact, it is a held belief by many that the biggest horse to have ever lived was a Shire Horse named Mammoth (Sampson) who was born in 1848. This horse had a reported height of 21.2 hands and weighed an estimated 3,360 pounds (estimated).
Shire Horse History
Originally bred for pulling heavy loads and doing farm work, the Shire Horse is one of the oldest draft horse breeds in existence and is said to have come from from England's Great Horse, which were the massive jousting animals used during that period of time. Then in 1853 the first Shire Horse was brought to the United States with even more arriving in the 1880s.
Following that time, the American Shire Horse Association was organized and incorporated in 1885 to help keep the history and pedigree of Purebred Shire stallions and mares.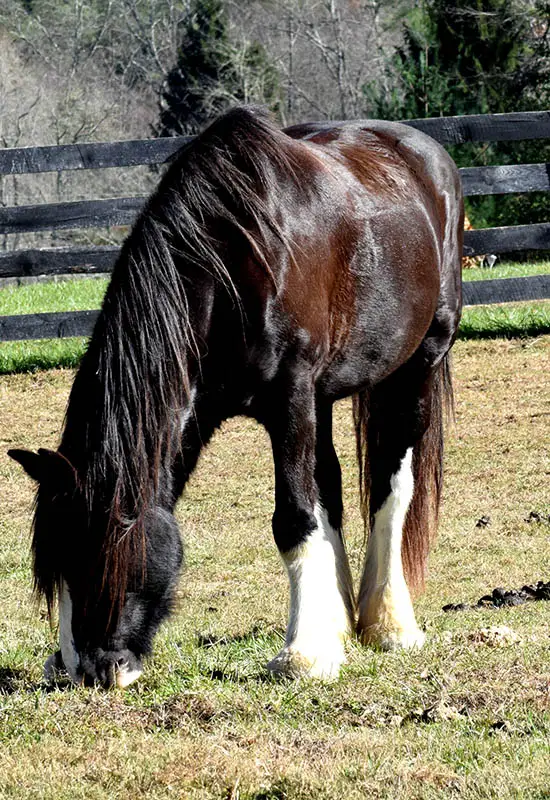 This largest horse breed, bred for excellence in work, had popularity in the early 1900s with more than 6,000 of them in the United States. The breed saw a huge decline in numbers starting at about WWI due to more of their work being done by machines with the lowest point being between 1950 and 1970 to just hundreds of horses.
Only a handful of horses were left in the United States during this time before things started to pick back up again. The breed is considered to be at risk and, according the American Shire Horse Association, there are about 3,000 registered Shire Horses currently in the world, and about 5,000 total (with un-registered horses).
That's not a lot.
Shire Horse Characteristics
Shire Horses have a commanding presence and the earth shakes underneath them at full gallop. Also noticeable is the amount of feathers under their knees.
This feathering is a desirable trait in Shire Horses and should be silky. Also worth noting is that Shire Horse feet need extra attention because of the feathering. If not taken care of properly, much like other long horse hair like mane and tail, it can become uncomfortable for the animal.
Most horses of this breed will be one of the four main colors, black, brown, gray, and bay–but there are other, less popular colors these massive beauties can be, as well. In fact, any roan or other white markings are not sought after colors for this breed.
These horses generally tend to be gentle, easy to train, and can be suitable for horse owners of any level as long as you're not intimidated by one's size.
This biggest breed of horse has an excellent work ethic, and is a more recent entry into horse showing, jumping, and competitions. In fact, with a competent rider, the Shire Horse does quite well.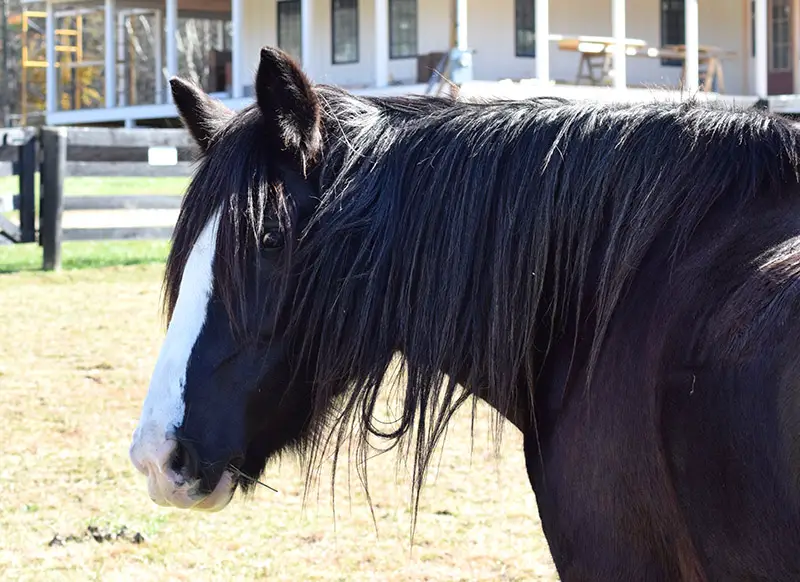 Big Jake
Not a Shire Horse, but this article wouldn't be complete without him since he holds the current Guinness World Record for the tallest single horse. At 20 hands and 2,600 pounds, Big Jake is absolutely massive. Big Jake is a Belgian Horse Gelding and is currently about 18 years old (as of this writing).
Belgian Horses are usually big at about 17 hands, but Big Jake is above average in height.
Conclusion:
While I'm not dead set on getting a Shire Horse, I certainly know that they one can handle the extra weight I carry around with me. After all, the Shire Horse is, on average, the biggest and strongest horse breed in the world.
Have you ever seen one of these magnificent animals up close? If so, let us know in the comments below.